If your eCommerce initiatives are struggling to keep up with customer demand, then in-memory computing may be the solution you need to take performance and scale to the next level. Yesterday's application and data architectures cannot achieve the speed and scale offered by in-memory computing. In addition, in-memory computing is more efficient than disk-based systems and can frequently be used to drive infrastructure consolidation projects and decrease costs.  
During this webinar, I discussed how in-memory computing using GridGain, which is built on Apache® Ignite™ can provide unrivaled speed and scale in the following use cases:
Cache product catalogs and related assets
Search
Pricing engines
Real-time personalization
Real-time analytics
Supercharge eCommerce with In-Memory Computing
The first use case that I described was real-time personalization and user session management. An eCommerce site or app should be able to react to user choices in real time to create location- and behavior-based recommendations. For example, "other people who bought that have also bought this". Or the customer enters a store and her phone has hit the Wi-Fi, so now we know she's in the store, so we'll push her a location-based recommendation. All of that personalization has to take place really quickly in order for a customer to modify their purchasing behavior to take advantage of these recommendations.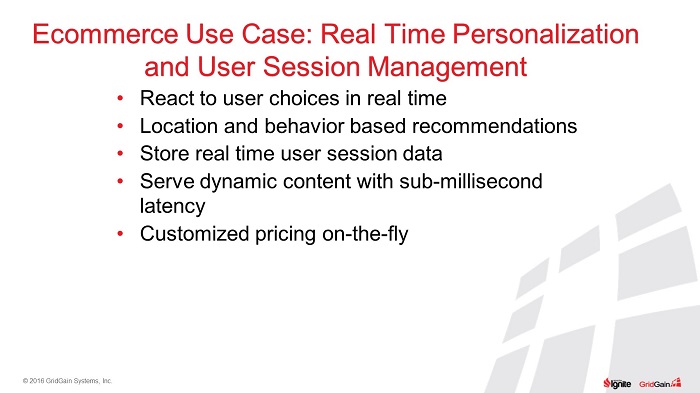 eCommerce initiatives also need to store user session data in real time as well, especially in the case where we're looking at an omni-channel offering. So you need to know if a customer looked something up on his phone and then went to a store because that customer might want certain content that facilitates that kind of purchase. Or was the customer just browsing the Web on from his computer at home? Or did he start browsing on his computer at home and then pick up his phone because he needed to go out, and now he wants to know the products that he looked at from his computer so he can buy them from his phone?" 
Real time personalization and user session tracking is becoming more and more important. Serving dynamic content and offers has to be done very quickly and correctly. Think about generating customized pricing on the fly. Customers don't want to wait for that offer. They want that to happen immediately when they add something to their shopping cart.
In-memory computing increases eCommerce performance and scalability so you can meet the needs of more customers faster. It is not surprising that many eCommerce stores are turning to the GridGain in-memory computing platform for big data applications such as real time personalization because of these substantial improvements in speed, scalability and ROI.
Watch the archived webinar to learn how GridGain or Apache Ignite can supercharge eCommerce.