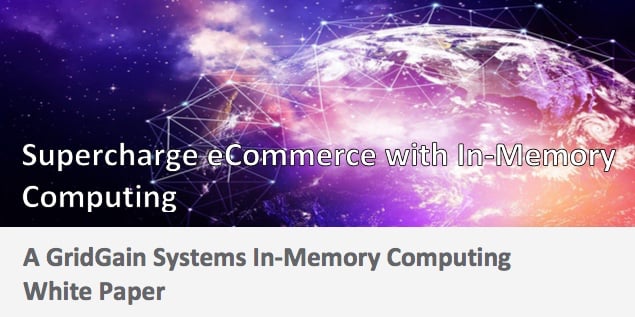 With consumers willing to walk away within seconds, the technological underpinnings of any online store or other customer-facing product must be impeccably designed, built and maintained for peak performance.
Our latest free white paper explains how to ensure that your e-commerce infrastructure is as fast, available, and scalable as possible by moving to an in-memory computing platform designed to address all the issues that e-commerce developers face.
Let's face it, customer retention and revenue growth depend on how fast shoppers can find, configure and buy the item they want -- perhaps with a push from real-time personalization that creates a unique shopping experience for each person.
Site speed at scale is crucial, and high availability is a critical factor in providing consistent performance no matter how heavy the user load becomes on Black Friday or any other day.
An in-memory computing platform can deliver a high-performance experience featuring real-time personalization, content personalization, high-speed transactions, user-session tracking, and real-time analytics across a variety of platforms. With that toolkit in hand, e-commerce developers can find a path to a future of sales growth and success.
In-memory computing is the storage of data in the main random access memory (RAM) of dedicated servers rather than in complicated relational databases operating on comparatively slow disk drives. In a nutshell, it's fast.
And today, that speed means everything. Digital transformation has pushed companies closer to customers who demand real-time interactions, and the amounts of Internet traffic, connected devices, and data -- all of which require instant analysis -- continues to grow.
It's estimated that total global data will grow from eight zettabytes in 2015 to more than 35 zettabytes by 2020.
Luckily, the cost of memory continues to tumble -- down 30 percent annually over time -- so moving to in-memory platforms has gotten more cost-effective with each passing year. According to Gartner, the in-memory technology market will grow to $10 billion by the end of 2019, representing 22 percent compound annual growth over time.
The combination of these two trends means that the time is right for eCommerce businesses to leverage the improved performance and scale provided by in-memory computing.
GridGain Supercharges E-Commerce
The GridGain in-memory computing platform helps e-commerce users consolidate onto a single high performance and highly scalable big-data solution for transactions and analytics, resulting in lowered total cost of ownership.
Combining an open source framework with enterprise-level features, the GridGain in-memory computing platform offers a high performance, scalable, and comprehensive solution. The GridGain in-memory computing platform is an elegant and efficient solution to leverage the power of blockchains for streamlined transaction processing.
The key modules of the GridGain in-memory computing platform are that relevant to Bitcoin and blockchain use cases are:
Data grid – Essentially an in-memory key value store that can be queried
SQL grid - provides the ability to interact with data in-memory using ANSI SQL-99 via JDBC or ODBC APIs 
Compute grid - A stateless grid that provides high-performance computation in memory using clusters of computers and parallel processing
Service grid - A service grid in which grid service instances are deployed across the distributed data and compute grids
Streaming – The ability to consume an endless stream of information and process it in real-time
Advanced clustering – The ability to automatically discover nodes, eliminating the need to restart the entire cluster when adding new nodes
To learn more, download our free white paper, "Supercharge e-commerce with In-Memory Computing."