Management Tools for Apache Ignite and GridGain
GridGain offers two management tools for GridGain® and Apache Ignite®. GridGain Control Center, the newest edition with support for GridGain 8.7.18+ and Apache Ignite 2.8.1+, is available as a free online tool or an on-premises version. GridGain Web Console, our previous management and monitoring tool version, is free for use with all versions of GridGain and Ignite.
Control Center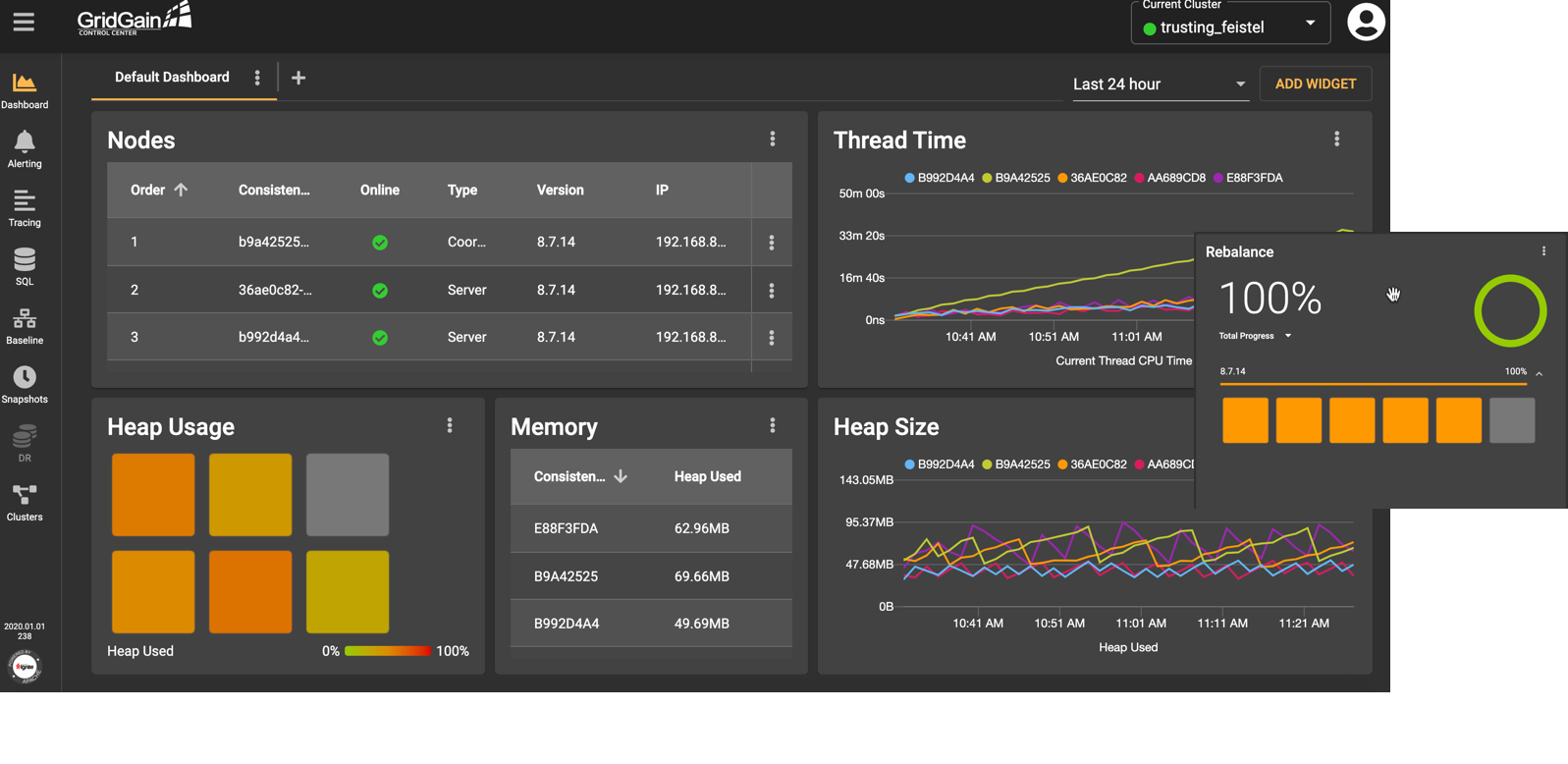 GridGain Control Center is a comprehensive cluster management and developer tool for GridGain and Apache Ignite. The online GridGain Control Center is available for free for any size GridGain or Ignite environment. The on-premises GridGain Control Center is available as a free download for use with up to two GridGain or Ignite nodes and as a commercial product for larger deployments. Control Center supports GridGain 8.7+ and Apache Ignite 2.8+. Ignite users must install the Control Center Agent, which is available for free on on the GridGain Downloads page.
The Control Center has a flexible, user-configurable dashboard which provides a visual view of your cluster status and tools for managing cluster behavior. The drag-and-drop interface allows monitoring of any of 200+ OpenCensus-based metrics. Data visualization options including charts, graphs, and heat maps help you easily understand the current status of your clusters.
It also offers active tracing based on the OpenCensus standard which visualizes API calls as they execute across the cluster nodes. This improves understanding of GridGain and Ignite processes and accelerates root cause analysis . Control Center offers views into stack traces, execution timings, thread details, logs and more.
ONLINE GRIDGAIN CONTROL CENTER
ON-PREMISES GRIDGAIN CONTROL CENTER
Web Console
The interactive Web Console includes a configuration wizard for Apache Ignite and the GridGain in-memory computing platform. The Web Console is also available as a downloadable package on the GridGain Downloads page, which can be installed and run on-premises.
The Web Console creates and downloads cluster configuration files for your environment. The configuration files are created using a multi-step wizard that helps you specify all of the important configuration parameters for your infrastructure. You can also automatically import the database schema from any RDBMS to speed the configuration process.
The Web Console also provides management capabilities. You can connect to your cluster and run SQL queries as well as view execution plans, in-memory schema, and streaming charts.
DOWNLOADABLE GRIDGAIN WEB CONSOLE
To watch a demonstration of how Web Console enables the automatic integration of GridGain or Apache Ignite and your RDBMS, view the on-demand webinar "The Apache Ignite Web Console: Automating RDBMS Integration" which shows how to:
Import an RDBMS schema and map it to the Apache Ignite caches
Setup indexes
Create a Java POJO
Download a ready-to-run Apache Ignite-based project that is fully integrated with the RDBMS