eBook: An Overview of In-Memory Computing for High Performance Financial Applications
About
If you are new to in-memory computing, curious to learn how in-memory computing can be used for financial services applications, or seeking to educate a non-technical team member about the benefits of in-memory computing for financial services applications, this eBook can help. This beginner's guide to in-memory computing for financial services applications will cover:
How financial services and insurance companies are using in-memory computing
How in-memory computing can help your financial services applications achieve speed and scale
The difference between an in-memory computing platform such as the GridGain In-Memory Data Fabric and other in-memory computing approaches
How an in-memory computing platform works with your existing IT ecosystem and how to get started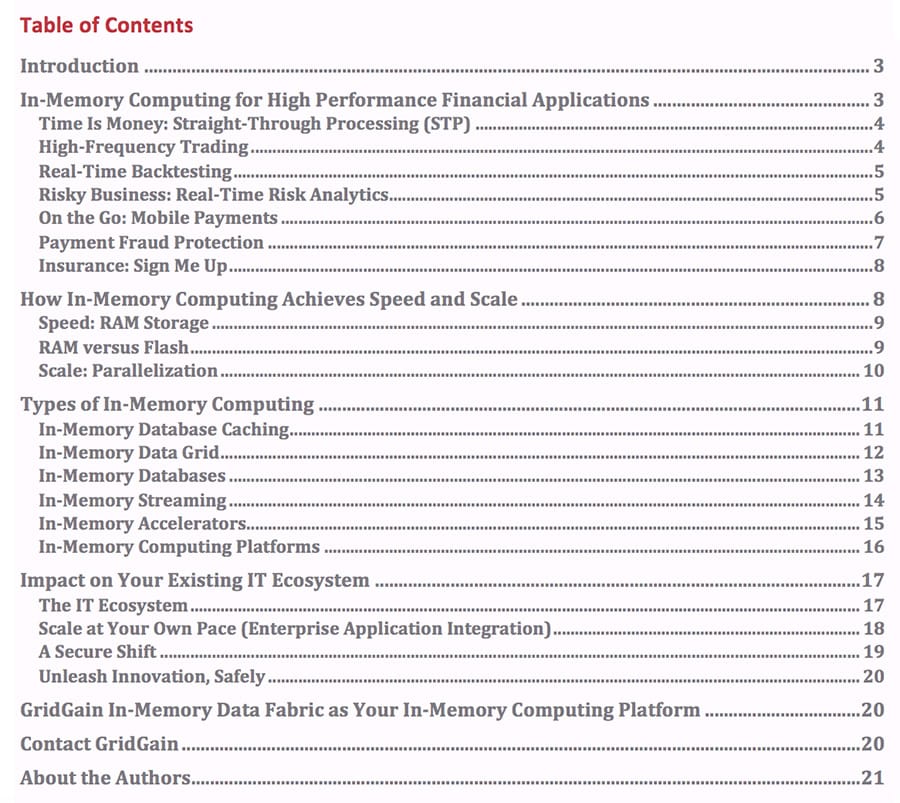 About the Authors
Nikita Ivanov
Founder & CTO
Nikita Ivanov is founder and CTO of GridGain Systems, started in 2007 and funded by RTP Ventures and Almaz Capital. Nikita has led GridGain to develop advanced and distributed in-memory data processing technologies — the top Java in-memory data fabric starting every 10 seconds around the world today.
Nikita has over 20 years of experience in software application development, building HPC and middleware platforms, contributing to the efforts of other startups and notable companies including Adaptec, Visa and BEA Systems. Nikita was one of the pioneers in using Java technology for server side middleware development while working for one of Europe's largest system integrators in 1996.
He is an active member of Java middleware community, contributor to the Java specification, and holds a Master's degree in Electro Mechanics from Baltic State Technical University, Saint Petersburg, Russia.
Dmitriy Setrakyan
Founder & CPO
As a founder and Chief Product Officer at GridGain, Dmitriy Setrakyan is responsible for leading product development, professional services, and customer support operations. Dmitriy has been designing, architecting and developing software and applications for over 15 years and has expertise in the development of distributed computing systems, middleware platforms, financial trading systems, CRM applications and similar systems.
Prior to GridGain, Dmitriy worked at eBay where he was responsible for the architecture of performance sensitive high-traffic components of an add-serving system processing several billion hits a day. Before that Dmitriy served as a Lead Architect at Fitech Labs, focusing on high-performance software for trading systems, where he jump-started a new distributed caching and grid computing product line scaling out to 100s computers.
Dmitriy holds a Bachelor of Science in Computer Science from University of California at Davis specializing in Networking and Algorithms.
Download