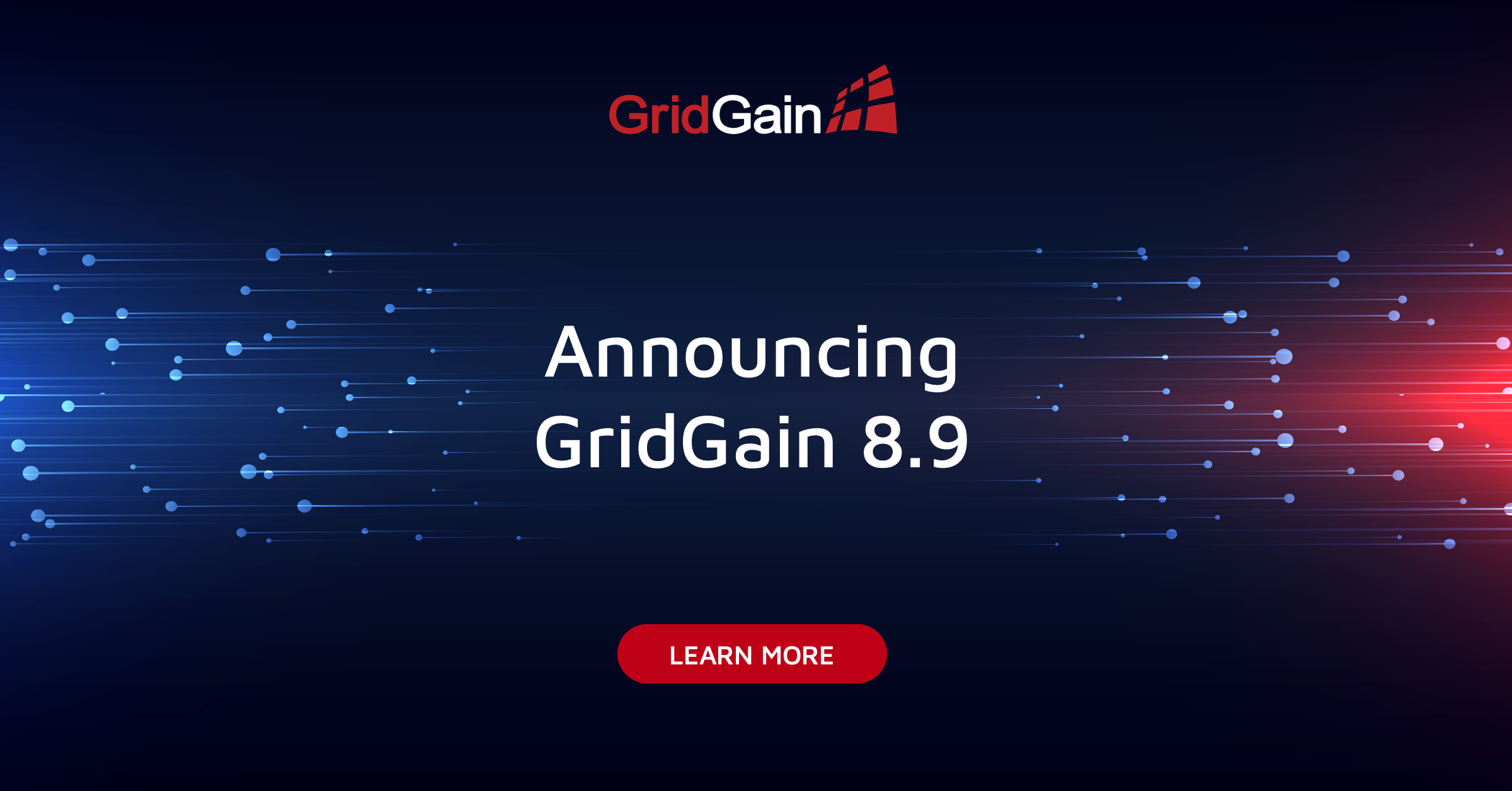 Today, we are thrilled to announce the release of GridGain Platform v8.9, adding new and enhanced integrations with popular data formats – including Apache Parquet, Apache Iceberg, CSV, and JSON – in order to enable more complete real-time analysis of your increasingly complex enterprise data. 
These enhancements make large volumes of enterprise data in data lakes and semi-structured document databases more easily accessible to you through the GridGain Platform, so you can execute complex workloads, real-time analytics queries, and transactions on more of your data than ever before.  
New in GridGain v8.9
New and enhanced features and capabilities in GridGain Platform v8.9 include:
Support for popular data formats: you now have more ways to integrate with various data sources, including data lakes and NoSQL databases.
Expanded data migrations: you can migrate both SQL and NoSQL workloads to the GridGain Platform, and take advantage of enhanced JSON processing functionality, and our ANSI SQL support. Uniquely, GridGain's ANSI SQL enables easy migrations for both data and queries to achieve ultra low-latencies.
Enhanced data import and export capabilities supporting Apache Parquet, Apache Iceberg, and CSV data formats: you can deploy files in these formats for reading and writing data, and easily transfer data between your data lakes and GridGain's SQL tables. 
Enhanced support for JSON data: you can share semi-structured data between your NoSQL data sources and the GridGain Platform, applying GridGain's ultra low-latency queries, ACID transactions, colocated compute, ANSI SQL support, memory-first storage, and other capabilities to their document-oriented data storage.
Why does this matter?
With version 8.9 of our unified real-time data platform, GridGain:
Extends your ecosystem to massive volumes of more complex data, huge data tables in enterprise data lakes, and semi-structured data in non-relational/NoSQL document databases like MongoDB.
Empowers you to use 1) more manageable data files that are storage- and read-efficient, 2) massive data tables that are both queryable at high speed and ACID compliant, and 3) diverse document data.
Enables you to build new kinds of applications faster by delivering structured and semi-structured data from data lakes and NoSQL databases with real-time processing, ultra low-latency analytics, and ACID-compliant transactions.
Supports your data scientists, engineers, analysts, and BI teams in their efforts to speed time-to-insight by integrating and analyzing more of your enterprise data.
These new and enhanced integrations – together with GridGain's unique ability to seamlessly combine streaming data in-motion and historical data at-rest with compute functionality – enable you to handle these complex analytical and transactional data workloads at unmatched speed and scale. And underlying all of this is a platform that provides horizontal scalability, strong security, and disk-based durability across data silos.
GridGain Platform v8.9 is available for download now. Please don't hesitate to Contact Us if we can help you in your evaluation of this latest version or answer any questions.