Bitcoin and Blockchain technology has driven a lot of discussions around its possible use within the banking and financial services industries. According to analysts, 80% of top banks have launched experimental Blockchain projects. While an estimated 15% of these banks will likely launch new Blockchain-based services into the mass market in the next 12-24 months, an enormous investment in new technology may be required.
Bitcoin and Blockchain Embraced by Financial Community
Current legacy systems cannot support secure, instantaneous and well-integrated decentralized cryptosystems. New approaches to building these ecosystems require scalable, distributed and well-protected computing platforms. On December 13, 2016, I hosted a webinar that discussed how in-memory computing can be used to meet these needs and successfully leverage Blockchain-fueled automation. You can watch the recorded webinar for more information about:
The opportunities fueled by Bitcoin and Blockchain technology
Typical use cases for Bitcoin and Blockchain technology within the financial services and banking industry
Technical challenges of using Bitcoin and Blockchain technology
How an in-memory computing platform like GridGain can help meet the new challenges raised by Bitcoin and Blockchain technology
I spent most of the hour talking about what Bitcoin and Blockchain are and why they are so interesting to the financial community. This included a discussion of the importance of trust and risk in conducting transactions. The way that our legacy systems and processes were designed and built can't scale to accommodate the high volumes of transaction processing we're seeing today.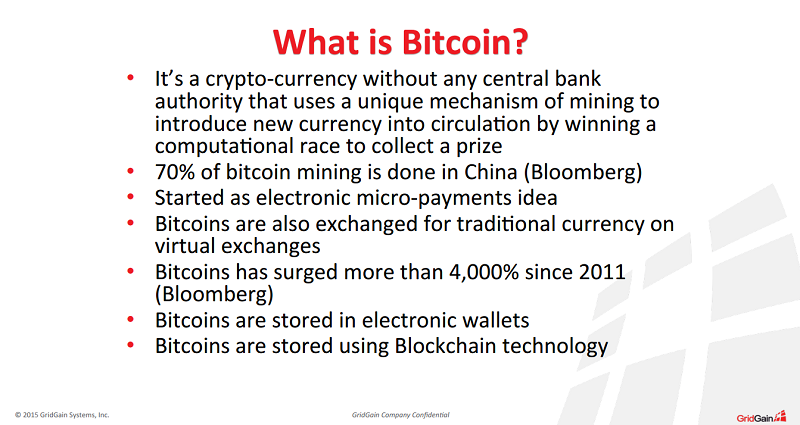 Some of the interesting statistics that I shared with the audience are from the Deutsche Bank and Financial Times survey of about 200 financial industry participants that were surveyed in November 2016. According to that survey, 75% of financial industry participants expect widespread adoption of Blockchain within the next 3 to 6 years. Seventy-five percent is significant.
In addition, two-thirds expect the introduction of Blockchain to produce substantial savings, possibly up to 25% in savings. Forty-eight percent argue that Blockchain technology could also help the financial industry cope with the risk of system failures and market disruption. And 87% of market participants believe Blockchain technology will completely change the settlement process for securities. That's significant amount of people looking to solve a significant amount of problems that now occur within the settlement process.