Centralized Configuration, Monitoring and Management Tool
The GridGain® Enterprise and Ultimate Editions, built on Apache® Ignite™, include both graphical and command line interface (CLI) tools that help you deploy and manage reliable, highly available in-memory computing platform solutions. You can use the wizard-driven on-premises version of the GridGain Web Console management tool to configure, manage and monitor GridGain clusters and caches. You can also perform the same actions via a command line interface (CLI) to support a modern DevOps approach using common solutions such as Kubernetes, Docker, AWS, Azure, OpenShift and more.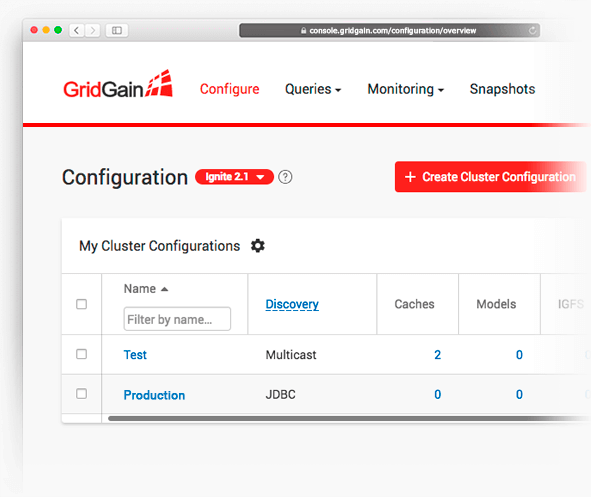 Graphical, Wizard-Driven Configuration
GridGain Web Console is a centralized environment for configuring, managing and monitoring GridGain deployments. It allows you to integrate with all popular RDBMSs, import and create schema in memory, configure your cluster and caches, and preload data, all without coding. To get started faster, you can download a host of configurations or create your own for deployment. GridGain Web Console monitors all running and completed queries. For testing, you can also enter free-form SQL queries, see the results live, and analyze the execution path to troubleshoot performance or other issues.
Integrated Alerting, Dashboards, Drilldowns and Management
The on-premises GridGain Web Console helps you identify issues as they happen by providing a centralized dashboard with deep visibility across your GridGain Enterprise or Ultimate Edition cluster. The dashboards include summary statistics on overall usage and loads and allow you to drill down to detailed metrics by individual queries and nodes to help identify root causes and potential fixes.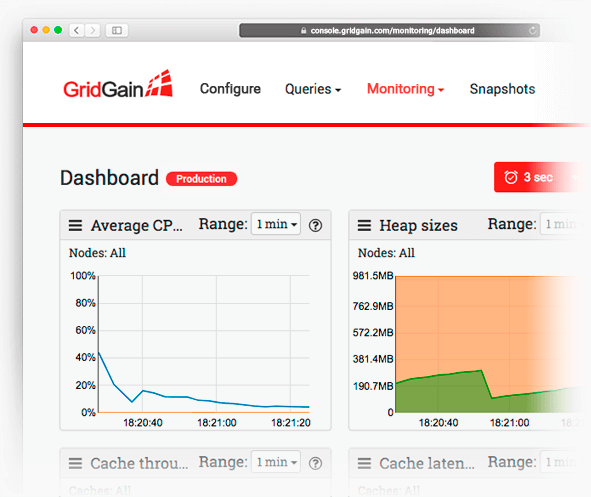 With the on-premises version of GridGain Web Console, you can:
Drill down within a cluster to individual node statistics including heap, CPU, memory and disk utilization
View detailed metrics on historical and currently running queries
Set alerts to highlight important issues in the dashboard and issue alerts via e-mail or SMS
Add filters using criteria such as execution times to help highlight issues
Access logs and thread dumps to help identify the root cause of an issue
Perform actions to resolve issues, such as terminating long-running queries and operations
Schedule or manually perform data snapshots and continuous archiving, and restore data back to any point in time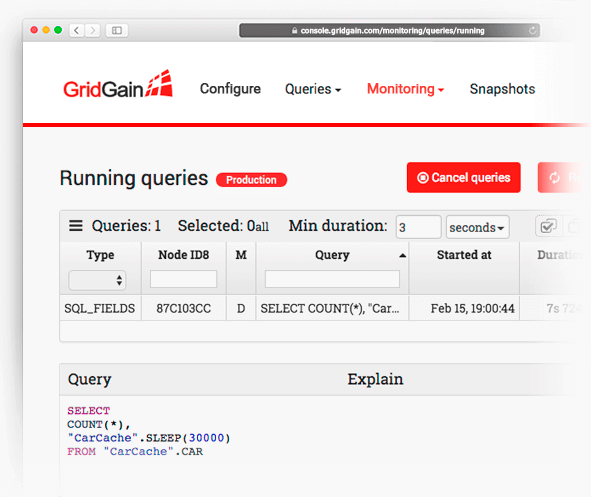 High Availability and Reliability
The on-premises GridGain Web Console helps ensure high availability of the GridGain in-memory computing platform and of the Web Console itself. It enables anytime, anywhere management and monitoring, along with multi-cluster management automation that includes monitoring data replication and receiver statistics. In the event of a failure, Web Console is not required for a cluster to continue to operate. Web Console is fault tolerant, with support for primary and secondary servers in case something goes wrong.
Deploy Locally with Any Cluster in Minutes
GridGain Web Console provides a wizard-driven approach to GridGain cluster configuration. Web Console is managed in a DevOps environment. Included with the GridGain Enterprise or Ultimate Editions, you can deploy Web Console as a prepackaged Docker container or as a direct installation, and be up and running in minutes.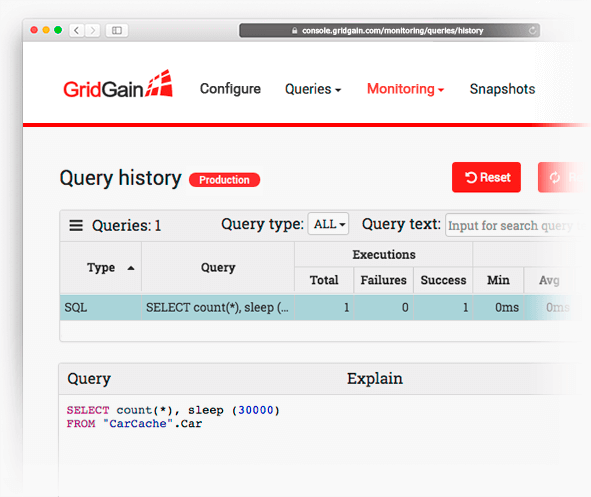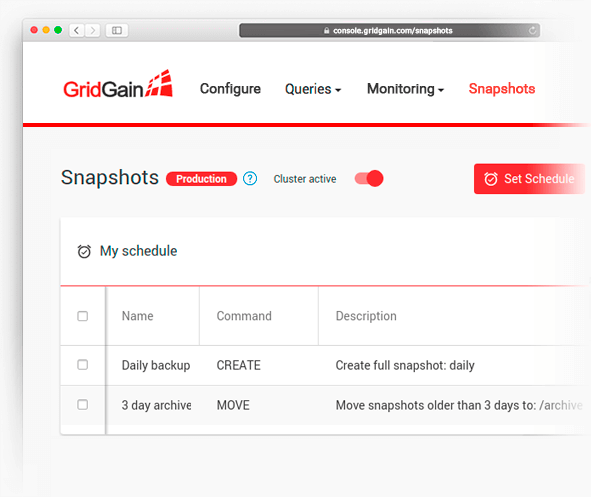 Available as a Free Hosted GridGain Service
If you do not want to install and maintain your own Web Console environment, GridGain also provides a hosted GridGain Web Console that allows you to remotely manage and monitor any GridGain or Apache Ignite cluster. You simply need to configure a local Web Console agent to establish a secure communication.