Simplified Management and Monitoring
GridGain Visor provides a single unified operations, management and monitoring console for the GridGain Enterprise Edition, which is built on Apache Ignite, and for any applications and systems built with it. GridGain Visor provides deep DevOps capabilities including an operations and telemetry dashboard, data grid and compute grid management, as well as management for the GridGain File System (GGFS) that provides monitoring and file management between HDFS, local and GGFS file systems.
GridGain Visor provides GUI- and CLI-based interfaces delivering an advanced set of management and monitoring capabilities for the GridGain Enterprise Edition. The GUI version is based on a standalone application and the CLI version is built on top of Scala REPL providing a fully scriptable and customizable environment.
Dashboard
The Dashboard is the main GridGain Visor screen. It provides a high-level view of the overall performance of the entire grid in a node-centric presentation; it also includes details about the topology as well as two performance graphs for the grid and an event log. Unlike other GridGain Visor tabs, the Dashboard is essential and cannot be undocked.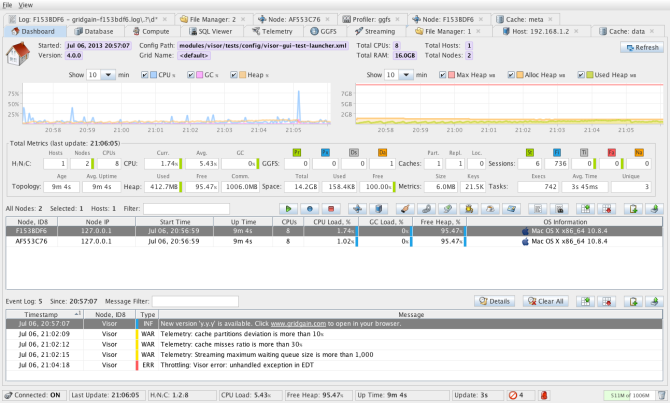 SQL Viewer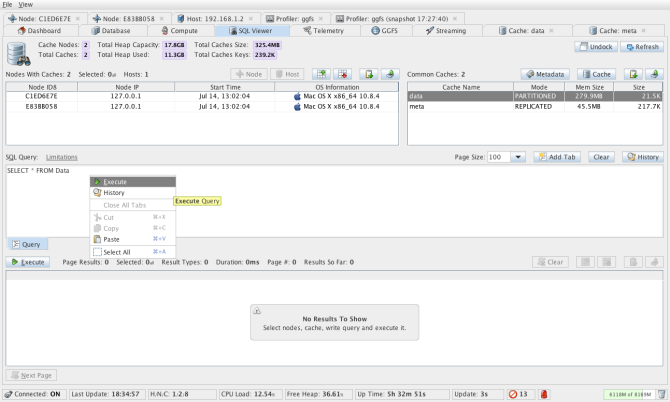 The SQL Viewer tab in GridGain Visor allows you to run SQL queries across your GridGain Enterprise Edition data grid. It allows you to see each cache metadata, write SQL queries in a multi-tabulated editor, and deliver result sets in paginated form.
GridGain File System (GGFS)
The GridGain File System view tab in GridGain Visor provides a high-level view of the performance and health of GGFS. It includes two charts with seven metrics to plot as well as a view on individual file systems configured in GridGain. From the GGFS tab you can launch file managers and file system profilers as well as perform basic functions such as formatting and resetting the metric counters.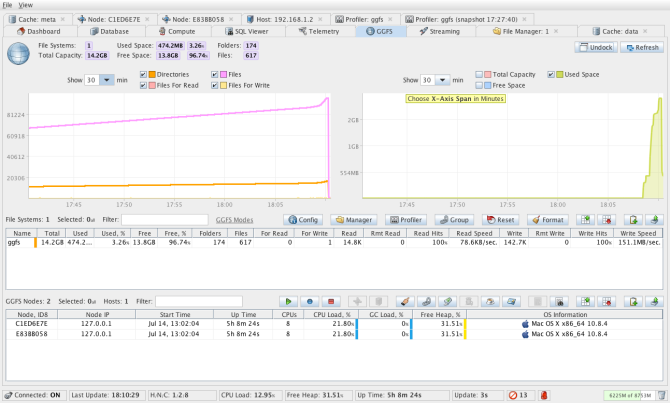 Command Line Interface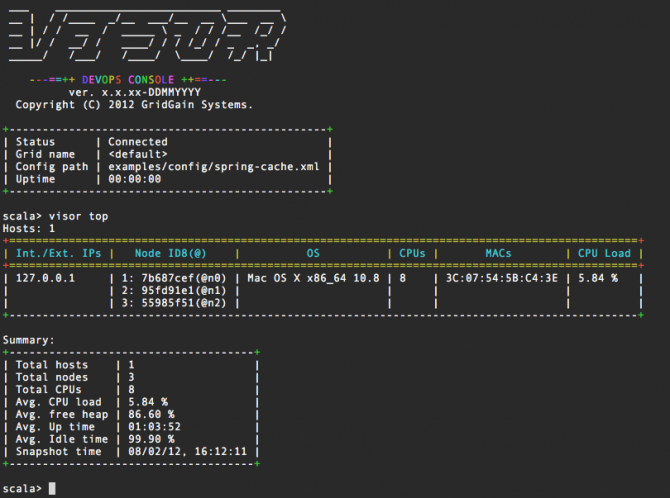 The GridGain Visor Command Line Interface (CLI) provides scriptable monitoring capabilities for the GridGain products. The GridGain Visor CLI is a library that can be used as is but is most often used within Scala REPL as an interactive monitoring environment. This is the preferred way to use GridGain Visor for basic CLI monitoring.