Billing
GridGain Nebula tracks billing based on the number and size of clusters you have active in the cloud.
To open the Billing screen, click the user image in the top-right corner of the page and select Billing.
The Billing page consists of the Current plans view, the Billing method view, and the Billing history view.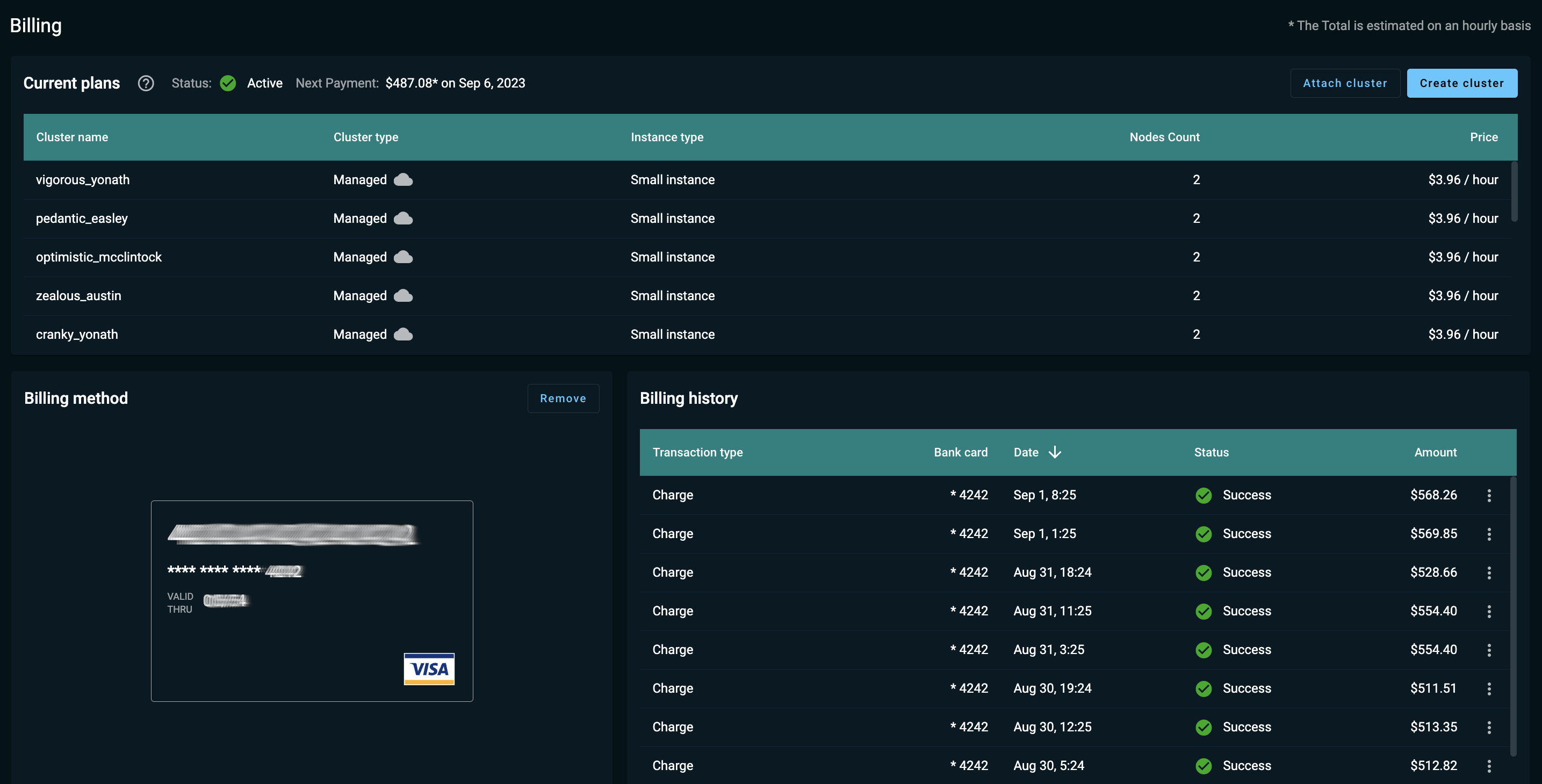 The Clusters view contains information on active clusters. In the right part of it, you can see the total cost of running your clusters since the last payment, your payment status and when the next scheduled payment is due.
The table in the view provides the following information:
| Column Name | Description |
| --- | --- |
| Cluster name | The name of the cluster. |
| Cluster type | The type of cluster, Managed or Attached. |
| Instance type | The size of the instance the cluster uses for Managed clusters, or the type of GridGain license for Attached clusters. |
| Nodes count | The number of nodes in the cluster. |
| Price | Information on hourly payments for the cluster. |
The Billing method view contains information on the credit card specified for billing.
The Billing history view contains information on billing details, which includes:
| Column Name | Description |
| --- | --- |
| Transaction type | The type of the billing transaction. |
| Bank card | The bank card used for billing. |
| Date | The date of the transaction. |
| Status | The purchased plan status. |
| Amount | The amount of funds paid. |
The menu button (three vertical dots) allows you to view the receipt for the selected transaction.
Updating Payment Method
To update your payment method, perform the following steps:
If you already have a card attached, navigate to the Billing method view and click the Remove button.

Click the Add button to bind a new credit card to your account.

In the Update card dialog, fill in the required information about your credit card and the billing address.

Confirm your agreement to terms and conditions at the bottom of the dialog and click the Update button to proceed.
Now the credit card is successfully bound to your account and can be used for subsequent purchases. Click Create cluster to create your Nebula cluster.