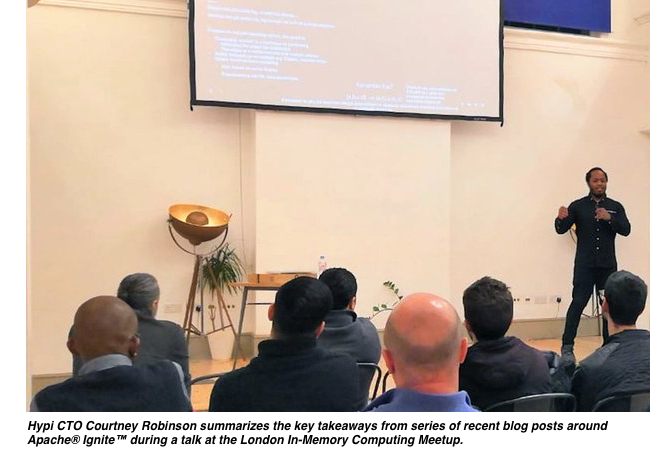 The In-Memory Computing Summit 2019 – Europe is just over two months away. One of the speakers is Hypi CTO Courtney Robinson. His session is titled, "Building a Graph Centric Platform on Apache® Ignite™" (June 4 at 11:55 p.m.).
Hypi is a serverless platform for accelerating application development. By providing a GraphQL data model, Hypi generates a CRUD API on the fly that can be extended with custom serverless functions.
In addition to his duties as CTO, Courtney is also  Ph.D. student investigating application of Category Theory to distributed systems with a view of making them provably correct even in the face of failures.
Held in London June 3-4 at the Park Plaza Victoria London, the IMC Summit is attended by technical decision-makers, business decision-makers, architects, CTOs, developers and more who make or influence purchasing decisions about in-memory computing, Big Data, Fast Data, IoT and HPC solutions. Hosted in London, the event is a meeting place for in-memory computing experts from across Europe, the Middle East, Asia, Africa, and beyond.
I spoke with Courtney last Friday by phone about his talk.
Q: What is Hypi?
A:  Hypi is a serverless platform for accelerating application development. By providing a GraphQL data model, Hypi generates a CRUD API on the fly that can be extended with custom serverless functions.

Q: How does Hypi enhance GraphQL? (For those readers unfamiliar with GraphQL, it's an open-source data query and manipulation language for APIs, and a runtime environment for fulfilling queries with existing data. Developed internally by Facebook in 2012 and publicly released in 2015, GraphQL is used by teams of all sizes in many different environments and languages to power mobile apps, websites and APIs.)
A: There is an ethos around GraphQL at the moment that suggests developers should go from code to API. Hypi's taking it the opposite direction, developers take a model first approach. Using the relatively newly added GraphQL schema definition language (SDL) Hypi explores the relationships in the model, generates a CRUD API and only if that's not enough does a developer need to write a single line of code.

Importantly, Hypi inherits all of the scalability properties of Apache Ignite, meaning these auto generated APIs scales as much as Ignite allows you to scale with no additional effort required.
Q: Who uses it? (And who should be using it?)
A: Application developers looking to focus on their core business instead of the infrastructure needed to make it work and grow with them or those who simply want to get from idea to production a lot faster with a production ready application.
Those we think should also be using it are business and developers looking to save, not just time but money. Building scalable infrastructure requires highly skilled and relatively senior developers. Using Hypi the bar has been lowered, making it possible for junior developers to build most of a Hypi powered app.
Q: How are the "GrahQL Model" and "Delta Grid" helping users?
A: Both the SDL first approach and delta grid are massive time savers. If you can write your schema in 1hr, that's how long it takes you to be able to go live with a production ready system. The delta grid is Hypi's way of building re-usable models/apps. Think of them as libraries, build them small, share and re-use them.
At our SaaS launch at Collision Conf May 2019 Hypi will be launching a complementing market place where any developer can build, publish and sell their libraries and services. This will save developers and businesses using Hypi SaaS even more time by allowing them to re-use models others have developed, tested and support.
In a nutshell, Hypi allows one app to inherit behavior from 1 or more other apps by adding a one line dependency on the existing app.
Q: Do you have any use cases?
A: A few use cases we can refer to includes a foursquare type app being developed by a company in London. A second one is an Uber eats type app from a Polish company. In both cases at least 80% of their development time was spent on their mobile apps and admin web panels. Hypi allowed their developers to pretty much entirely focus on features in the apps.
Q: Courtney , your talk at the In-Memory Computing Summit Europe 2019 is titled, "Building a Graph Centric Platform on Ignite." Who should attend this session -- and why?
A: Off the bat, anyone interested in how we're transforming a data model to a distributed graph. One of Hypi's core remit is simplicity for application developers and we've gone to great lengths to make as many things as possible automatic by default but still be overridable by those wanting more control. I'll cover some of the theory behind the implementation which has origins in my PhD research on applying category theory to distributed graph computing.
Q: What are some notable things that will also be covered in your session?
A: The contents are still being narrowed, there are so many things to choose from but the tops ones at the moment include fulltext searching, dynamic distributed data partitioning, user managed access control (UMA) at scale and building custom Ignite cache stores. Each of these can easily be expanded into multiple talks in their own right so I'm trying to find a good balance that'll give enough detail for the talk to be interesting but still be accessible to most in the audience.
* * * 
In-Memory Computing Summit is the only in-memory computing conference that focuses on the full range of in-memory computing-related technologies and solutions. Attendees will learn about the role of in-memory computing in the digital transformation of enterprises.
The first 10 alert readers of this post who would like to attend June's IMC Summit in London can do so with my compliments. Yes, the first 10 who register via this special "TomVIP" URL will get their full-access, two-day pass for FREE (the regular price is £475+). If you miss this opportunity, then please use my promo code "Tom50" and save 50 percent.
In addition to his talk at the IMC Summit, Courtney is also a regular speaker at the London In-Memory Computing Meetup and host of GridGain webinars focused on Apache Ignite topics.