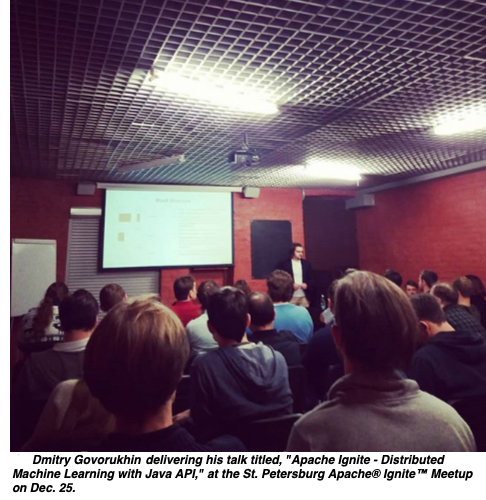 GridGain's Dmitry Govorukhin and Yury Babak presented at yesterday's St. Petersburg Apache® Ignite™ Meetup #4, an informal gathering of Ignite enthusiasts coming together for an evening of talks, mingling, food and a raffle. 
Dmitry's talk was titled, "What every Java developer should know about disk IO." Yuri's talk was titled, "Apache Ignite - Distributed Machine Learning with Java API."
Both experts are dedicated Apache Ignite Committers. 
Approximately 20 Igniters attended the two-hour meetup, which in addition to the great talks, featured pizza, beers and soft drinks -- and a raffle for some technical books, including "Designing Data-Intensive Applications" and "Designing Distributed Systems." 
A big thanks to the meetup's organizer, GridGain's Kseniya Romanova, for making the event fun, informative and successful.  
GridGain sponsors meetups all over the world. If you'd like us to speak at your meetup, please drop me a line or leave me a message in the comments section below.