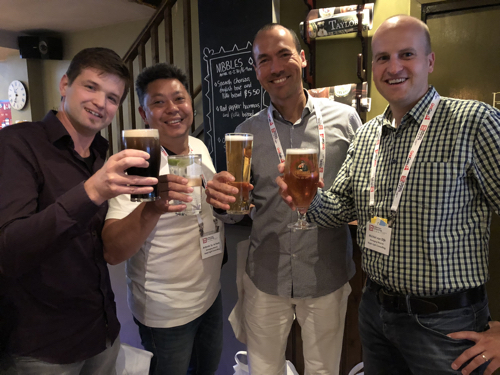 GridGain Systems is hosting a special-edition gathering of the Bay Area In-Memory Computing Meetup on Oct. 2, following the conclusion of Day 1 of the 4th-annual In-Memory Computing Summit North America at the The Hyatt Regency San Francisco in Burlingame. All are welcome but an RSVP is required for this free event.
The meetup will take place in the lobby atrium/bar area from 6:30-8 p.m. There will be complimentary food, beer, wine & soft drinks. Plus a raffle for a PlayStation 4 Slim 1TB Console! Register for the raffle here.
If you'd like to attend the full conference and need a ticket for the In-Memory Computing Summit, I was just notified that my promo code "TomVIP" has 3 more spots. So register for the summit now (and good luck).
This event (and the conference, for that matter) is the perfect event for those looking to hire or those looking for a new opportunity -- or those just wanting to network with your peers! Even if you can't make it to the conference, you won't want to miss this exciting event with data scientists from across the country and around the world in attendance (they'll be there for the conference).
Space will be limited so be sure to RSVP to this special-edition meetup now!
We'll have six tables with seats across from each other. You'll have two minutes to introduce yourselves and then talk about the topic assigned to your table. Then everyone moves over to the seat to the right of them.
The themes will be:
* Architecture
* New Capabilities
* Streaming Data
* Tales From The Trenches
* Hardware
* Machine Learning
Agenda:
* 6:30-6:45 p.m. -- Grab some food, a drink or two -- mingle (and network)
* 6:45-7:45 p.m. -- Speed networking!
* 8:15 p.m. -- Take a break and grab more food and a beverage
* 8:20 p.m. --- Get back to your seat!
* 7:45-8 p.m. -- Free time. Grab more food, drinks -- mingle (and network)
* 8 p.m. -- raffle winner is selected
I hope to see you there! RSVP here to reserve your spot because space is limited.