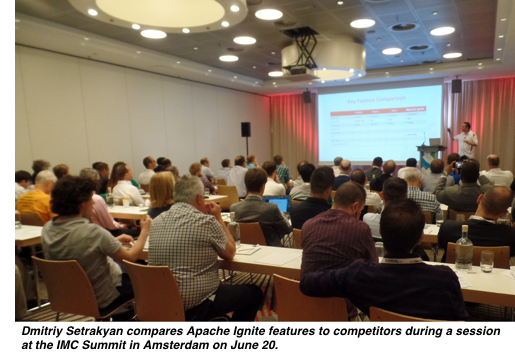 I'm looking forward to next month's In-Memory Computing Summit North America at the South San Francisco Conference Center. To pique your interest a bit more, below is a sneak peek of the breakout session agenda for the conference, which runs from Oct. 24-25.
Before that, however, I encourage those planning on attending to take advantage of the Super Saver conference registration rate -- which ends Sept. 10.
And now, as promised, here's a preview of the 40 breakout sessions:
That Is How We Built Our Highly-Available Platform or How to Solve Real-Life Problems with In-Memory Grids, Andrey Ershov, RingCentral
How In-Memory Solutions Can Assist with SaaS Integrations, Craig Gresbrink and Jimmy Floyd, 24 Hour Fitness
An Ignite Compute Grid in the Cloud, Chris Berry, HomeAway
In-Memory Machine Learning Pipeline, Lei Zhang, Walmartlabs
In-Persistent-Memory Computing with Java, Eric Kaczmarek, Intel Corporation
High Availability and Disaster Recovery for IMDG, Vladimir Komarov
Using In-Memory Computing to Create the Digital Twin: A New Model for Stream Processing, William Bain, ScaleOut Software, Inc.
Distributed Java 8 Streams with Hazelcast JET, Fuad Malikov, Hazelcast
Leveraging In-Memory for the IoT Application Challenge: Build It Better and Faster, Tom Lee, Neeve Research
Accelerate MySQL® for Demanding OLAP and OLTP Use Cases with Apache® Ignite™, Peter Zaitsev, Percona, and Nikita Ivanov, GridGain
The In-Memory Computing Summit (IMCS) is held annually in both Europe and North America. They are the only industry-wide events that focus on the full range of in-memory computing-related technologies and solutions. The conferences are attended by technical decision makers, business decision makers, operations experts, DevOps professionals, and developers. The attendees make or influence purchasing decisions about in-memory computing, Big Data, Fast Data, IoT and HPC solutions.