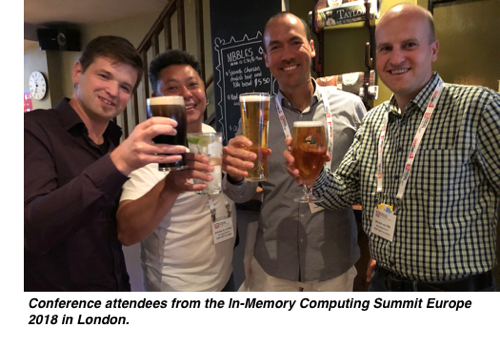 The In-Memory Computing (IMC) Summit Europe 2019 beings in just two weeks. The conference, June 3-4 at the Park Plaza Victoria London, will include 30 breakout sessions and several keynotes.
In-memory computing experts from GridGain, Capital One, Cerner Corp., BCS Financial Group, GSI Technology, Hazelcast, Oracle, Redis Labs, Confluent, ScaleOut Software and many more will be covering a wide variety of topics and use cases.
And of course the keynotes are always popular because the speakers share insights into how mature in-memory computing technologies are delivering the application speed and scalability necessary for digital transformation, omnichannel customer experience, Big Data and Fast Data use cases. This year's keynotes will be delivered by experts from e-therapeutics, 451 Research, the Storage Networking Industry Association (SNIA) and GridGain Systems.
I've been busy making preparations for the in-memory computing community kiosk that I'll be overseeing along with a community event the evening of June 3 -- following the conclusion of the conference's first day.
That event will be a special-edition gathering of the London In-Memory Computing Meetup with a "speed networking" theme. Every guest will have 30 seconds to introduce themselves and what they do before moving on to the next seat. We did this at last year's In-Memory Computing Summit North America near San Francisco and it was very popular.
The London meetup will take place in a 200-year old pub called the Marquis of Westminster. We've book a private area for events that holds 100 people and I expect it to be a full room. The pub is about a five-minute walk from the conference venue.
Speaking of which, the Park Plaza Victoria London is in a prime location, with easy access to the main airports and the London Underground. Historical attractions such as Buckingham Palace, Hyde Park and Big Ben are all within walking distance
The only in-memory computing conference that focuses on the full range of in-memory computing-related technologies and solutions, attendees of the In-Memory Computing Summit will learn about the role of in-memory computing in the digital transformation of enterprises.
The conference is attended by technical decision-makers, business decision-makers, architects, CTOs, developers and more who make or influence purchasing decisions about in-memory computing, Big Data, Fast Data, IoT and HPC solutions.
If you can make it to London, I invite you to attend the conference as my guest. Well, that is if you are among the first 10 people to click here and register using a special URL that gives you are free ticket. And be sure to RSVP for the meetup the evening of June 3. Space will be limited to the first 100 people who sign-up.
Follow the In-Memory Computing Summit's Twitter handle @imcsummit to keep up to date on the latest action from the conference floor.