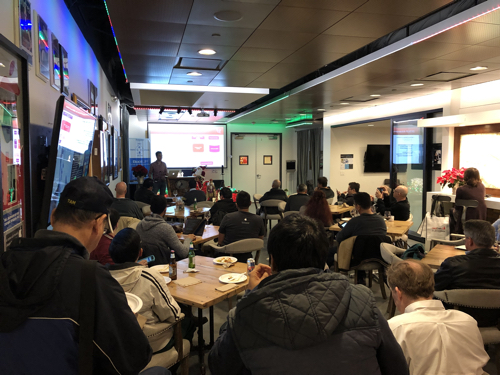 I admit that I was a little reluctant to organize a meetup during the middle of the holiday season -- but I'm glad I did. More than 50 people showed up for last Wednesday's event -- a new attendance record for the Bay Area In-Memory Computing Meetup!
I'm not sure if it was the speakers this time around, the talk topics or something else. I do know the location was a good one: I found a quirky but cool venue called BootUp Ventures, at 68 Willow Road in Menlo Park. Probably also a factor is the membership: We recently passed the 1,000-member mark (now at 1,039).
The expert speakers that evening were: Denis Magda, director of product management at GridGain Systems and Apache Ignite vice president; Doug Hood, Oracle TimesTen Scaleout evangelist; and John W. Lockwood, CEO of Algo-Logic Systems Inc.
Denis' talk was titled, "Best practices for Hadoop acceleration." Doug's talk was titled, "In-Memory for the Enterprise." And John's talk was titled, "In-Memory Key Value Store (KVS) in FPGA for Ultra Low Latency and High Throughput." (I'll add all of the slides once I receive them.)
The meetup was recorded and is available for playback below. Stay tuned: the next Bay Area In-Memory Computing Meetup is scheduled for Jan. 10. Meantime, you can track all of the meetups GridGain is participating in by bookmarking our Meetups page.