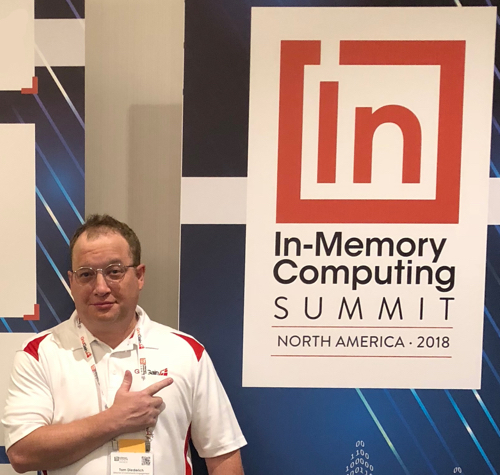 It's been two weeks since the conclusion of the fourth-annual In-Memory Computing Summit® North America. Here's the recap.
Industry leaders from around the world converged on the Hyatt's conference center in Burlingame, Calif. (midway between San Francisco and Silicon Valley) for the two-day conference and delivered 35 breakout sessions and five keynote addresses.
Some 450 people representing 227 organizations from 10 countries across four continents and 19 U.S. states registered to listen to speakers from American Airlines, ING Belgium, Intel Corp., Oracle, Salesforce.com, Huawei, SNIA, Wellington Management, GridGain Systems and many more. Recordings and slides from the keynotes and breakout sessions are now available on the conference website.
My boss summed up the conference the best:
"This year's In-Memory Computing Summit North America provided valuable insight into the challenges of digital transformation and how in-memory computing was addressing the speed and scalability issues that arise," said Terry Erisman, Vice President of Marketing, GridGain Systems. "In-memory computing experts and practitioners shared their experiences and offered practical advice for using in-memory computing to accelerate their own organization's digital transformation initiatives."
The In-Memory Computing Summits (IMCSs), held annually in Europe and North America, are the only industry-wide events focusing on the full range of in-memory computing technologies and solutions.
The In-Memory Computing Summit North America 2018 keynotes included:
"In-Memory Computing – Unlocking the Digital Future" by Abe Kleinfeld, President & CEO, GridGain Systems, who discussed how all companies, regardless of industry, are rapidly becoming software companies in their own right, creating a real-time digital twin that virtually models their physical world, and how this will dramatically improve market agility.
"Embracing the Service Consumption Shift in Banking" by David Follen, Chapter Lead, ING Belgium, who discussed how ING is using in-memory computing platforms to ensure a smooth transition to new technology systems for its customers.
"Persistent Memory Advances" by Arthur Sainio, Co-Chair, SNIA Persistent Memory and NVDIMM Special Interest Group, and Director, Product Marketing, SMART Modular Technologies, who discussed how the persistent memory technologies being deployed today, including NVDIMMs, and those that are coming will revolutionize development and management tools, platforms and applications.
"Optimized In-Memory IBOR Architecture in a Cloud Environment Using Apache Ignite" by Rafique Awan, Vice President and Principal at Wellington Management, who discussed how Wellington Management has leveraged the GridGain In-memory computing platform to implement an HTAP architecture for its Investment Book of Record (IBOR).
"In-Memory Database Architectures at Oracle" by Tirthankar Lahiri, Vice President, Data and In-Memory Technologies at Oracle, who discussed how in-memory databases enable orders of magnitude faster data processing than traditional disk-based designs and Oracle's approach and vision for in-memory database architectures: Real-time in-memory transaction processing with the TimesTen In-Memory Database, real-time in-memory analytics with Oracle Database In-Memory, and real-time analytics on very large flash-resident data using In-Memory columnar algorithms within the Exadata flash cache.
The keynote and breakout session video recordings and slides are available on the In-Memory Computing Summit North America 2018 website.
Sponsors
The In-Memory Computing Summit North America 2018 was sponsored by:
Platinum Sponsors – Oracle, GridGain Systems
Gold Sponsor – ScaleOut Software
Silver Sponsors – Hazelcast, Neeve Research, Heimdall Data
Association Sponsors – Apache Software Foundation, Storage Networking Industry Association (SNIA)
Media Sponsors – IT for CEOs & CFOs, ITRtv, ODBMS.org, Packt
The Next IMC Summit
The third-annual In-Memory Computing Summit Europe will take place June 3-4, 2019 at the Park Plaza Victoria in London. Stay tuned for the call for speakers.
About the In-Memory Computing Summit
The In-Memory Computing Summits in Europe and North America are the only industry-wide events tailored to in-memory computing-related technologies and solutions. They are the perfect opportunity to connect with technical IT decision makers, IT implementers, and developers who make or influence purchasing decisions in the areas of in-memory computing, Big Data, Fast Data, IoT and HPC. Attendees include CEOs, CIOs, CTOs, VPs, IT directors, IT managers, data scientists, senior engineers, senior developers, architects and more who make or influence purchasing decisions about in-memory computing, Big Data, Fast Data, IoT and HPC solutions. The Summits are unique forums for networking, education and the exchange of ideas — ideas that power the new world and future of Fast Data. For more information, visit https://imcsummit.org and follow the event on Twitter @IMCSummit.