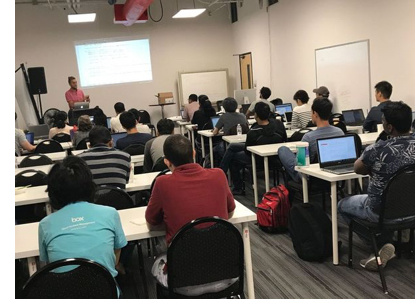 We just launched a new meetup in the San Francisco Bay Area for Apache Ignite fans. It's aptly called, the Bay Area Apache® Ignite™ Meetup!
The first gathering is coming up fast: Oct. 19. It will be held from 6:30-9 p.m. at GE Digital in San Ramon, Calif. I invite you to join GridGain's lead architect Valentin (Val) Kulichenko, and GridGain product manager (and Apache Ignite PMC) Chair Denis Magda, for an evening of hands-on learning around distributed systems. And we're once again teaming up with our friends at Data Riders, a Big Data and Cloud Meetup, for this evening of Apache Ignite tech talks.
We'll also have food, drinks and a raffle prizes, including an Amazon Echo Dot, Apache Ignite t-shirts  and passes to the In-Memory Computing Summit, Oct. 24-25 at the South San Francisco Conference Center.
Tech talk No. 1
Val kicks off the learning with a session titled, "Building Consistent and Highly Available Distributed Systems with Apache Ignite and GridGain."
Tech talk No. 2
Denis continues the knowledge sharing with a session titled, "Harnessing the 21st Century with a Distributed Memory-Centric SQL."
The open-source Apache Ignite is a memory-centric data platform that is strongly consistent and highly available with powerful SQL, key-value and processing APIs.