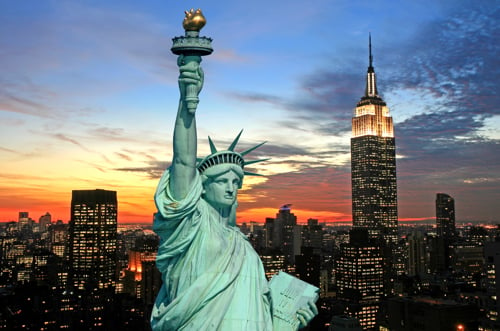 Monday kicks off the first week of autumn -- and it also marks the start of three excellent in-memory computing-related meetups in New York City featuring GridGain technical evangelist Akmal Chaudhri, Ph.D.
All three meetups will be live-streamed to GridGain's YouTube channel if you can't make it in person. They'll also be recorded and available there afterward.
Sept. 25 from 6:30-8:30 p.m.
Akmal (a.k.a. "The Professor") will speak at the Internet of Things (IoT) New York Meetup where he'll demonstrate data streaming to an Apache® Ignite™ cluster from embedded devices and real-time data processing with Apache Spark.
This meetup's venue will be at a great spot overlooking Grand Central Station. In addition to a great talk, there will be free food and drinks. This is a free event! More info and RSVP here.
Sept. 26 from 6:30-8:30 p.m.
Tuesday marks the first gathering of the NYC In-Memory Computing Meetup! We've got an amazing space reserved at Guy Fieri's awesome American Kitchen and Bar on Times Square. Lots of great food and drinks – and as always, free. Space is limited so RSVP now!
Akmal has an informative fintech talk on tap titled, "Powering up banks and financial institutions with distributed systems."
He'll start with a high-level overview of distributed computing fundamentals and in-memory computing use cases. Then he'll introduce the open-source Apache Ignite, an in-memory computing platform that enables high-performance transactions, real-time streaming, and fast analytics in a single, comprehensive data access and processing layer.
A customer case study will also be presented. Akmal will analyze one of the largest Apache Ignite deployments in the world at Sberbank, a Russian and Eastern European bank, by walking through the overall architecture and demonstrating various implementation and deployment challenges.
RSVP to this meetup now because space is limited!
Sept. 27 from 6:30-9 p.m.
Contrary to popular belief, Kubernetes is not a variety of pretzel. It's actually an open-source system for automating deployment, scaling, and management of containerized applications -- it groups containers that make up an application into logical units for easy management and discovery.
Akmal will take the floor of the Kubernetes NYC Meetup Wednesday evening where his talk will focus, from a DevOps perspective, on the orchestration of distributed databases. He'll talk about node auto-discovery, automated horizontal scalability, availability and utilization of RAM and disk with Apache Ignite.
Space for this meetup is very limited because more than 200 have RSVP'd – so RSVP now to reserve your spot!
O'Reilly's Strata Data Conference
In addition to our in-memory computing meetup hat trick, we'll also have a table at O'Reilly's Strata Data Conference. Stop by during the day and say hello -- and then join us for some great talks (plus food and drinks) at the meetups I've mentioned above.
Speaking of conferences, enter our raffle for the third-annual In-Memory Computing Summit North America -- Oct. 24-25 at the South San Francisco Conference Center. Two winners selected every Friday. Feeling lucky?
Have a great weekend!