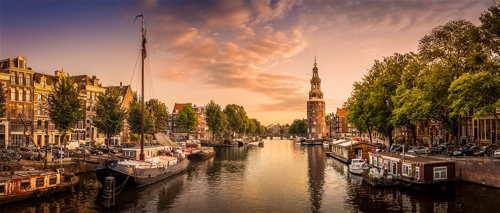 I'm excited to announce that in addition to the strong lineup of previously announced keynote addresses, this year's In-Memory Computing Summit Europe will feature a keynote by Tim Wood, head of HPC and Model Integration at ING Financial Markets, speaking on "Where Does In-Memory Computing Fit in Banking." We also added activities and sponsors.
The two-day summit, held at the Mövenpick Hotel Amsterdam City Centre, is the premier in-memory computing (IMC) conference for computing experts from across Europe and Asia. The In-Memory Computing Summit Europe will take place June 20-21.
The conference is the only industry-wide event focusing on the full range of in-memory computing technologies. It brings together computing visionaries, decision makers, experts and developers for the purpose of education, discussion and networking.
New Breakout Sessions
Two new breakout sessions have been added to the conference agenda. Niels van Noort, Enterprise Architect and Solution Principal Database & Database Management at SAP, will focus on "How SAP In-Memory Helps its Customers Be Best-Run Businesses," featuring multiple in-memory computing use cases.
Dan Skatov, Head of Development for Starcounter AB, will present "With In-Memory Technology, a New Breed ISV Supports 30,000 Daily Visitors at Retailer Gekås from a Single Server."
Networking Reception
On the evening of June 20, following the first day of the conference, a networking reception will be held in the exhibit area, and will feature food, spirits and great conversation.
Meetups!

The evening of June 20 will also feature a guest meetup hosted by Apache® Ignite™. Held in conjunction with the MySQL User Group NL, the meetup will feature two talks, GridGain Systems' Denis Magda on "Turbocharge your SQL queries in-memory with Apache® Ignite™", and Percona's Peter Zaitsev on "Open Source MySQL Monitoring with Percona Monitoring and Management." The meetup will take place at Booking.com and will feature food, beverages and raffle prizes, courtesy of GridGain Systems.
On the evening of June 22, Data Science Amsterdam will host a guest meetup on "Apache® Ignite™ SQL Grid: Hot Blend of Traditional SQL and Swift Data Grid." The meetup will take place at Stadskantoor, Utrecht.
Sponsorships
Redis Labs, VoltDB and Starcounter have become In-Memory Computing Summit Europe Silver Sponsors. They join a growing list of companies that recognize that sponsoring the In-Memory Computing Summit Europe presents a unique opportunity to enhance an organization's visibility and reputation as a leader in in-memory computing products and services. Sponsors interact with key in-memory computing business and technical decision makers, connect with technology purchasers and influencers, and help shape the future of Fast Data.
The current list of sponsors now includes:
Platinum Sponsors – GridGain Systems
Gold Sponsors – ScaleOut Software
Silver Sponsors – Fujitsu, Hazelcast, Redis Labs, VoltDB, Starcounter
Foundation/Association Sponsors – SNIA, Apache® Software Foundation
Media – CMSWire, InsideBIGDATA, InsideHPC, IT for CEOs &CFOs, InfoQ, Jet Info, ODBMS.ORG, Packt
Registration
Attendees can register via the conference website or email attendance and registration questions to info@imcsummit.org. Registration sales end on June 19.