In the previous blog post, I provided a quick summary of the first week of the Big Data Tour, where I am presenting on Apache® Ignite™. After returning home from the first week and able to rest over the weekend, I started the second week of the tour on Monday 10 September.
In this blog post, I will quickly summarise the second week of the tour. The second week required more travel as there were four cities to visit.
Another early morning departure from London Heathrow on Monday 10 September. This time, heading out to Frankfurt. My hotel was close to the airport.
The meetup venue was at WeWork in Frankfurt near Goetheplatz. Usually I am good with directions and finding places but was somewhat lost trying to locate the WeWork office. It turned out to be in a side street, hidden away. Note to self: next time, read the address carefully and ask someone for directions!
The venue filled-up fairly quickly and soon it was standing room only, as shown in Figure 1. By far, the largest audience of the tour so far. Several of my colleagues from GridGain were also able to attend and enjoyed the presentations.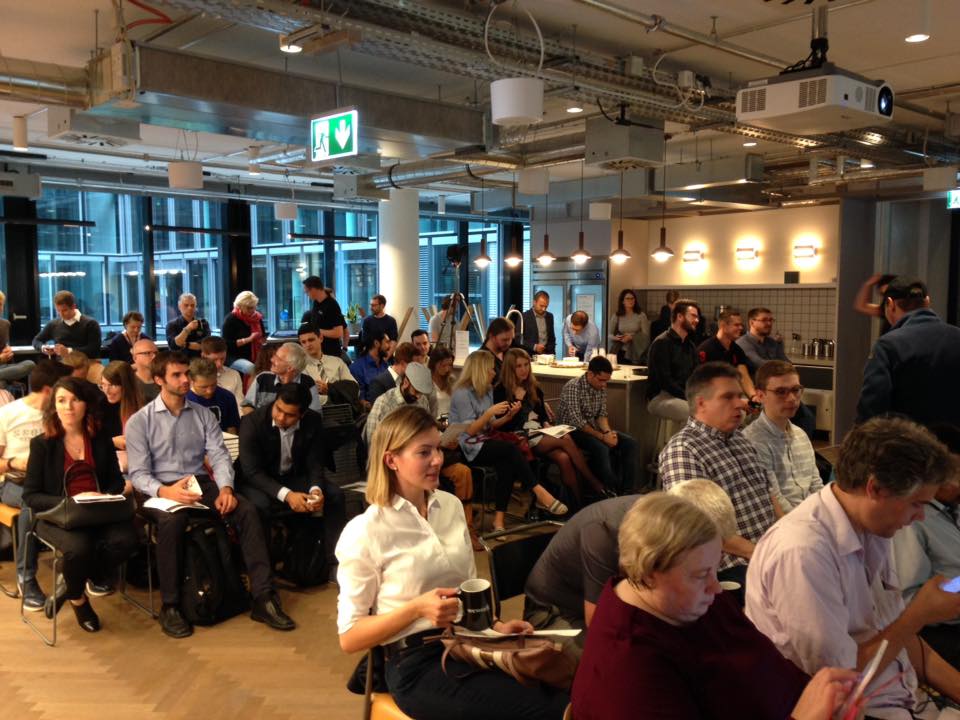 Figure 1. Frankfurt.
After the presentations, plenty of great discussions. Everything from what advice I could give to a budding Data Scientist to whether Ignite can handle large "blobs", such as satellite images.
An early morning flight from Frankfurt to Vienna, a short ride into town on the Airport Express and I found that I was just too early to check into the hotel. Some hours later, all was well and enough time to freshen up at the hotel and head to the meetup venue at TourRadar.
Great attendance at the meetup with standing room only, as shown in Figure 2. Many of the attendees appeared to be Data Scientists and one of the other speakers presented a good session on using Machine Learning for Crime Detection. This presentation attracted many questions from the audience.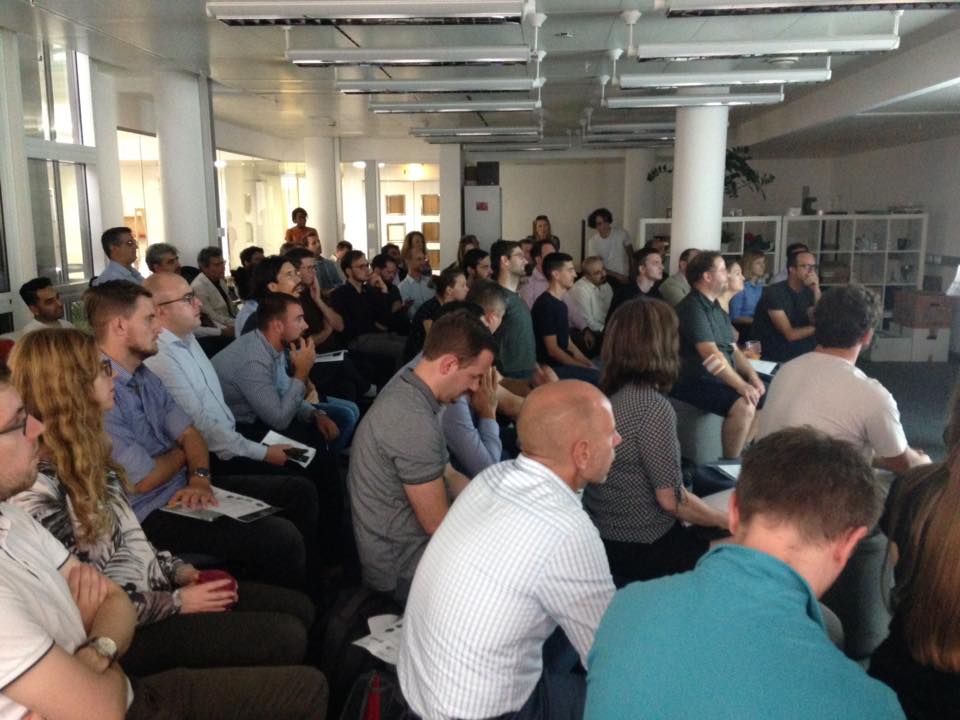 Figure 2. Vienna.
After all the presentations, I had some good off-line questions about Apache Ignite's architecture.
Many years ago, I visited Vienna with Normal Revell, one of my doctoral thesis advisers. We also took the opportunity to travel over the border to Sopron in Hungary for lunch. Another thing that we did was to take the train as far as we could to the Czechoslovakian border, left our luggage with the station master, hired two bikes and rode over the border to have lunch in Bratislava. Sadly, no time on this trip for such excursions.
Vienna to Munich on another early morning flight. Hotel close to the airport. I chose the scenic route to the meetup venue in Munich, avoiding the city centre. Good integration between S-Bahn, U-Bahn and buses.
The meetup venue was at Oracle's offices in Munich. Since there were four main presenters, my presentation was somewhat shorter, but I was still able to complete the Ignite overview. Solid attendance for the meetup as shown in Figure 3.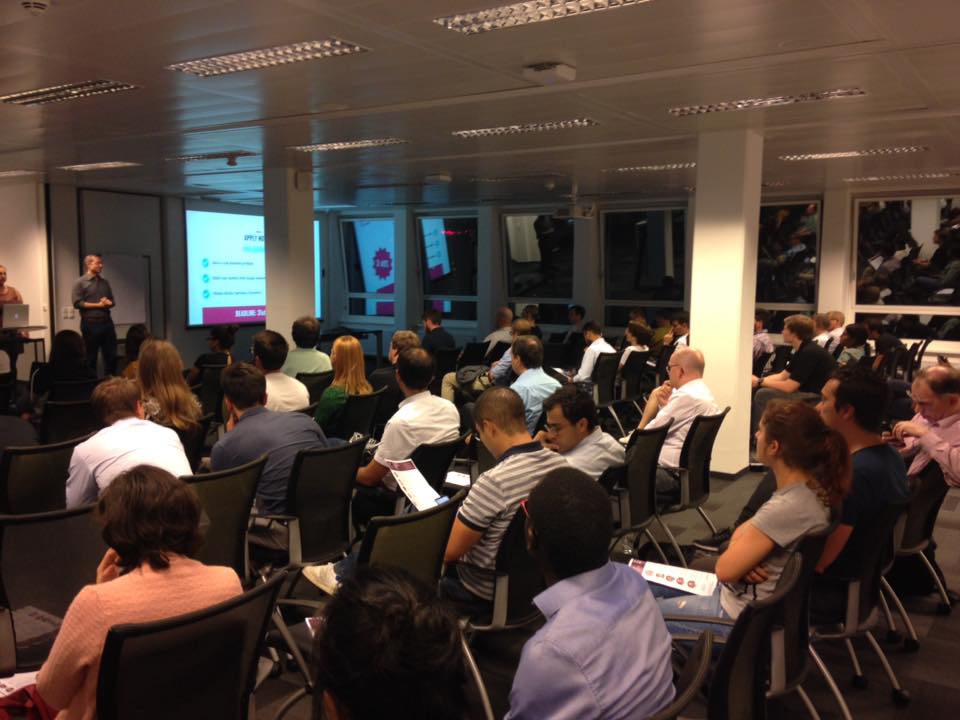 Figure 3. Munich.
Munich to Zurich on another early morning flight. Short ride into the city by train. Very impressed with the efficiency of Swiss Railways.
Many years ago, just after I completed my doctoral research, I consulted for a major bank in Zurich for a short time. Zurich has seen quite a lot of changes since my last visit and the hotel where I stayed was not even built when I last visited.
The meetup venue was a short walk from the hotel, housed in old railway arches. Solid attendance for the meetup, as shown in Figure 4. After the presentations, some good off-line discussions focussing on Ignite's architecture.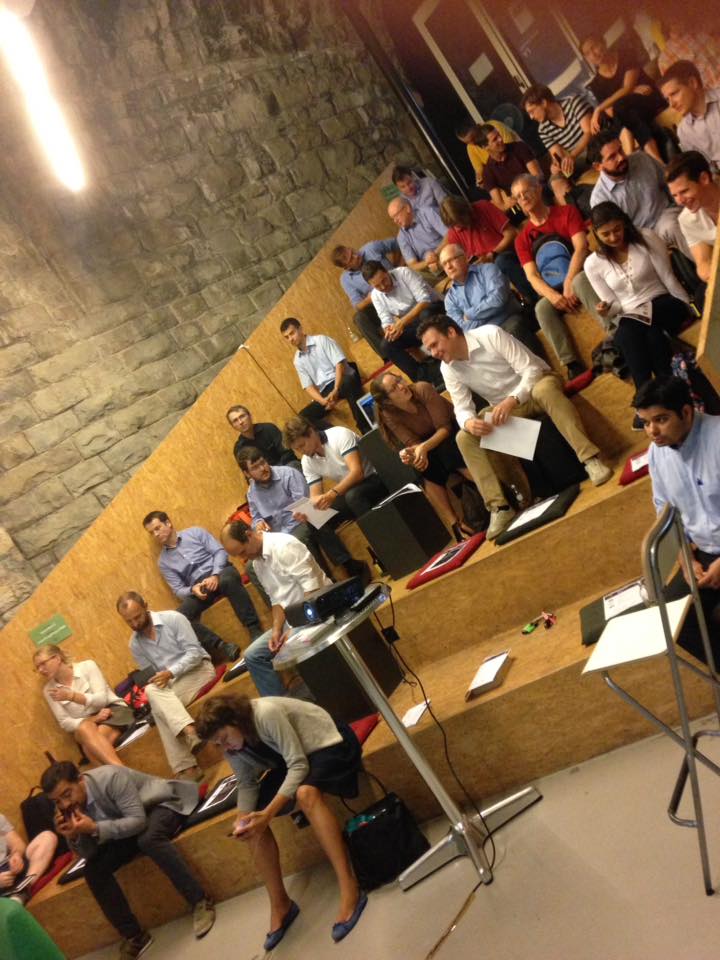 Figure 4. Zurich.
Summary
The second week of the tour has been physically quite demanding. Early morning flights can be a big drain. However, the meetup attendance and discussions with audiences have more than made up for any travel discomfort or difficulties. This is what makes these types of meetup tours entirely worthwhile, in my humble opinion. One of my missions at GridGain is to raise awareness of Apache Ignite and this week has been a great opportunity to do just that with many Data Scientists and Software Engineers now aware of some of its powerful capabilities.