In my job at GridGain, I am privileged to work with some of the smartest and most talented people that I have ever met in my IT career. I am also fortunate in the variety of work that I get involved with. This includes presenting at meetups and conferences, building demos, writing blog posts, presenting webinars, occasionally writing and editing product documentation, and even contributing to the Apache® Ignite™ Open Source project. Of these different tasks, I particularly enjoy presenting at meetups and conferences, since it is face-to-face with an audience and the interaction can be extremely valuable. For example, I get a better understanding of what business problems people have and how technology can help solve these problems.
At this time, I am participating in an intensive meetup tour across many cities, organised by Dataconomy and sponsored by GridGain. My presentation on this tour focusses on four main areas of Apache Ignite:
Turbocharging SQL queries when working with existing Relational database systems
Sharing data and state across multiple Spark jobs using RDDs and DataFrames
Using Ignite's Machine Learning library for Data Science
Easing DevOps dilemmas by using Ignite with Kubernetes
In this blog post, I will quickly summarise the first week of the tour.
Early morning on Tuesday 4 September, I flew from London Heathrow to Copenhagen to start the tour. Fortunately, my hotel was right next to Copenhagen Airport and I was able to crash out for a few hours to make-up for lost sleep. In the afternoon, I headed into town towards the meetup venue at Symbian.
Copenhagen has a small metro system at this time, but public transport seems quite well integrated and efficient. I found the meetup venue with ease. On arrival, I found that several of the other meetup speakers also had Apple Mac laptops and none of them appeared to work with the HDMI cable for the projector. Try as me might, we could not get it working. This reminded me of the old joke about how many software engineers are required to change a lightbulb!
In the end, the solution was to use a Microsoft Windows laptop with all the presenter slides. Unfortunately, this meant that I could not show any demos. This is something that I have experienced before at a few other events and the only option without demos is to talk around the slides.
Aside from the HDMI problem, it was a good event with the audience asking a number of questions. For example, there was interest in Ignite's programming language support.
Figure 1 shows the Copenhagen audience.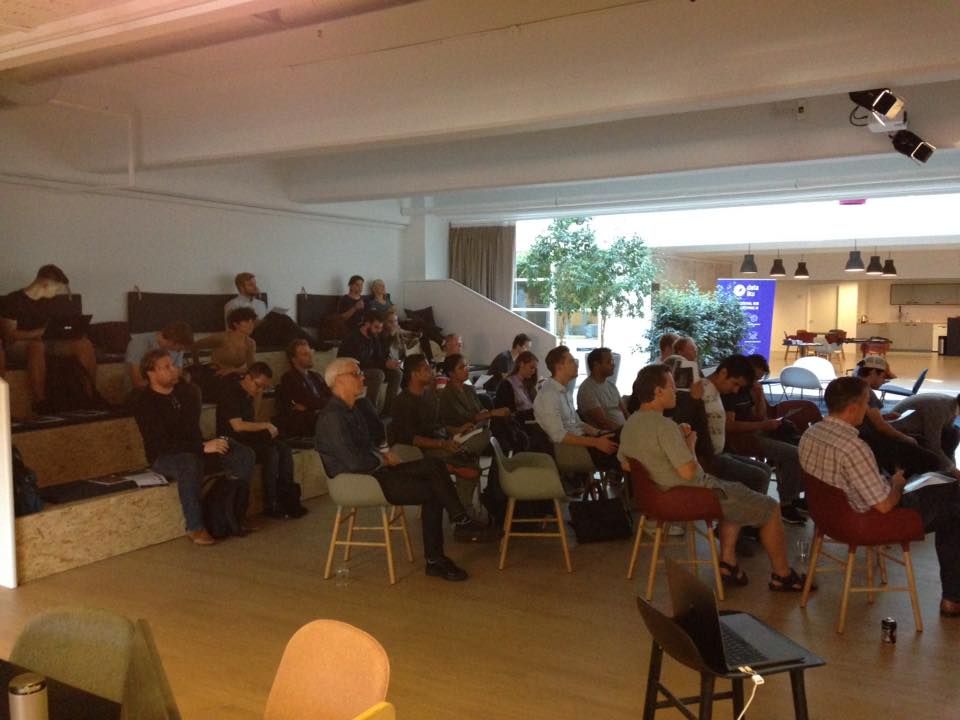 Figure 1. Copenhagen.
Early morning on Wednesday 5 September, I flew out from Copenhagen to Hamburg. Again, staying at a hotel near the airport. Hamburg has an efficient public transport system and it was easy to travel into town to the meetup venue.
This time, there were only two main speakers, including myself. This meant that each speaker could have a bit more time. Fortunately, there were no problems with the projector and I was able to present both my slides and my demos.
After my presentation, some good questions about Ignite's architecture and support for transactions. Later, after all the presentations had finished, more discussions with attendees about Ignite's integration with Spark and also Ignite's Machine Learning library.
Figure 2 shows the Hamburg audience.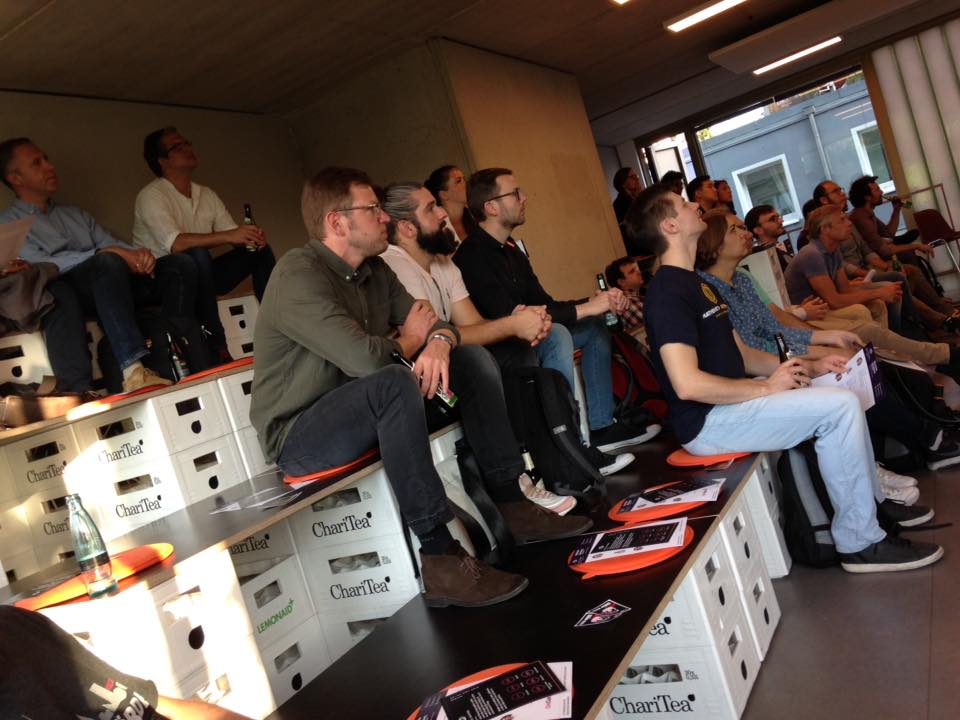 Figure 2. Hamburg.
Hamburg and Berlin are geographically quite close, and no airline appears to offer a direct flight between these two cities, so an opportunity to travel on a German Railways ICE fast train. The journey took about 2 hours. This time, I opted to stay at a hotel downtown actually not far from Checkpoint Charlie.
The meetup venue was a short metro ride from the hotel and soon after I arrived, attendees also started filling-up the venue. When the meetup was ready to start, the room was packed, as shown in Figure 3.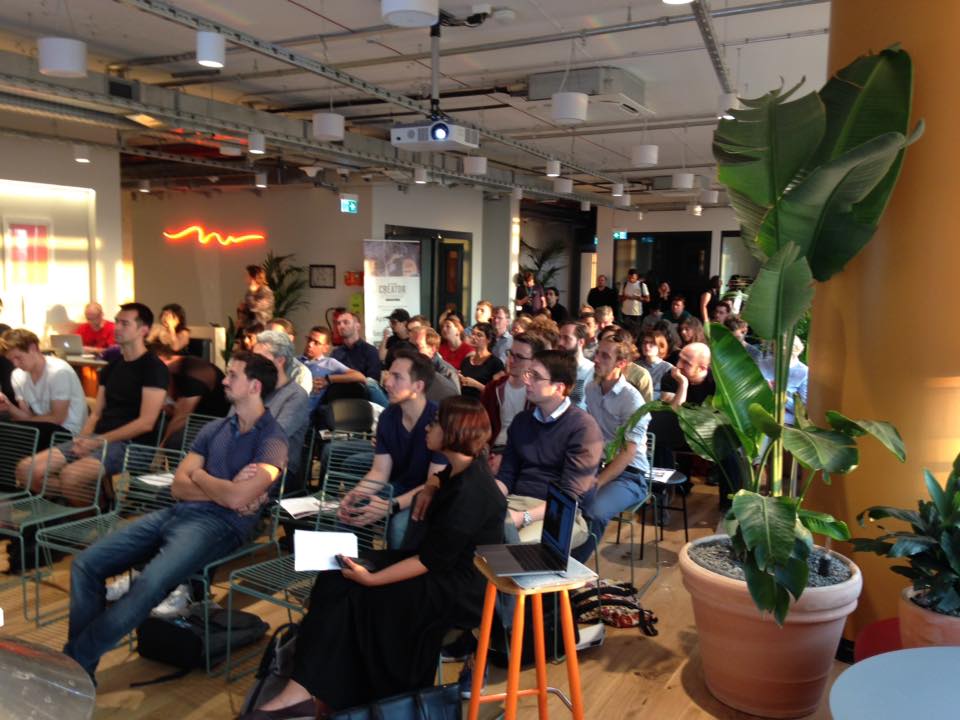 Figure 3. Berlin.
There were three main speakers this time. After I finished my presentation, some great questions about how Ignite nodes find each other, and GridGain's business model around Open Source Software.
Summary
In the modern world, we often rely upon technology to just work. When it fails, it can sometimes cause difficulties and frustration. HDMI has a standard and should just work. There is a wonderful saying that the nice thing about standards is that there are so many of them! In my presentations, I try to include some demos to support some points that I want to make. Without any demos, those points becomes harder to make. However, it is good to have a backup plan and something that a good speaker will have is the ability to talk about a subject even without demos or maybe even slides!
Overall, a good start to the meetup tour and a large number of developers now know much more about Apache Ignite than they did before attending these meetups. In discussions after the meetup presentations, many attendees also mentioned to me that Ignite is a technology that they plan to evaluate further.