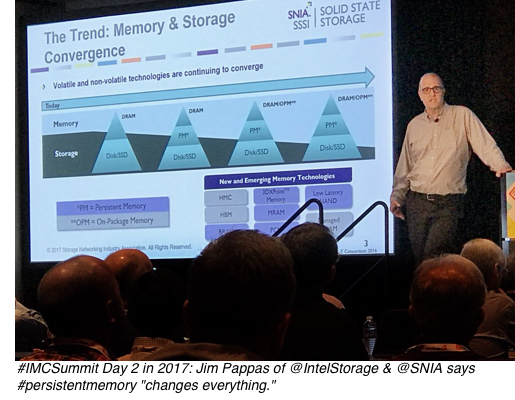 The keynote speaker schedule was announced today for the fourth-annual In-Memory Computing Summit® North America, taking place October 2-3 at the Hyatt Regency San Francisco Airport. Industry luminaries from ING Belgium, Wellington Management, Oracle, SNIA and GridGain Systems will discuss the evolution of in-memory computing technology and how organizations are leveraging in-memory computing to obtain the speed and scalability necessary for their digital transformation, omnichannel customer experience, Big Data and Fast Data initiatives.
GridGain today also announced that Oracle has become a Platinum conference sponsor.
Oracle Becomes Platinum Conference Sponsor
The In-Memory Computing Summit North America 2018 is the only in-memory computing conference focusing on the full range of in-memory computing-related technologies and solutions. The theme of this year's conference is "Powering the Digital Enterprise with In-Memory Computing." Conference speakers will discuss topics including in-memory computing use cases related to machine learning and deep learning, the Internet of Things, and other applications requiring Big Data to be ingested, processed and acted upon in real-time. Attendees will learn about the role in-memory computing is playing in the digital transformation of enterprises in industry that span financial services, software, fintech, e-commerce, retail, online business services, healthcare, travel, telecom and other major industries.
Keynote Speakers
Tuesday, October 2
Abe Kleinfeld, President & CEO, GridGain Systems – "In-Memory Computing – Unlocking the Digital Future" – 9:25 a.m. to 9:55 a.m. All companies, regardless of the industry they serve, are rapidly becoming software companies in their own right, creating a real-time digital twin that virtually models their physical world. The competitive advantage gained by early adopters promises to be transformational and will dramatically improve the market agility of these companies as we progress toward a digital world.
David Follen, Chapter Lead, ING Belgium – "Embracing the Service Consumption Shift in Banking" – 10:00 a.m. to 10:30 a.m. Legacy banking systems are not tailored for the drastic shift in consumer habits and service consumption. We will see how ING uses in-memory computing platforms to ensure a smooth transition for its customers.
Wednesday, October 3
Arthur Sainio, Co-Chair, SNIA Persistent Memory and NVDIMM Special Interest Group and Director, Product Marketing, SMART Modular Technologies – "Persistent Memory Advances" – 9:25 a.m. to 9:45 a.m. Persistent Memory technologies being deployed today, including NVDIMMs, and those that are coming will revolutionize development and management tools, platforms, and applications. Find out what matters, how we got here, where we are going, and how the Storage Networking Industry Association (SNIA) is advancing Persistent Memory.
Rafique Awan, Vice President and Principal at Wellington Management – "Optimized In-Memory IBOR Architecture in a Cloud Environment Using Apache Ignite" – 9:50 a.m. to 10:10 a.m. This session will discuss how Wellington Management has leveraged the GridGain In-memory computing platform to implement an HTAP architecture for its Investment Book of Record (IBOR), a single source of truth for all investment holdings information, providing consistent, timely, and accurate position and exposure information that helps the front office make investment decisions.
Tirthankar Lahiri, Vice President, Data and In-Memory Technologies at Oracle – "In-Memory Database Architectures at Oracle" – 10:15 a.m. to 10:30 a.m. This session will focus on how in-memory computing technology supports Computer Systems Software, such as in operating systems, database systems, and storage management products, by enabling scalable and fault-tolerant systems with emphasis on high availability, high performance and ease of use. The focus will be on emerging hardware trends, such as chip-level multiprocessor technology, increasing memory density and disk-drive capacity, increasing flash-memory density and other non-volatile memory technology, and assessing the impact of these trends on systems software designs.
Raffle for Complimentary Passes
Enter the weekly raffle for a free General Admission Pass to the conference. Visit the conference website raffle page to enter the drawing. But first, I have seven complimentary full-access passes for the first lucky seven people who claim them with promo code "TomVIP" -- just register and enter that promo code for your free ticket! But hurry! Register here (and good luck!).
Sponsorships
The In-Memory Computing Summit North America 2018 is sponsored by leading technology vendors. Current sponsors include:
Platinum Sponsors – Oracle, GridGain Systems
Gold Sponsor – ScaleOut Software
Silver Sponsors – Hazelcast, Neeve Research, Heimdall Data
Association Sponsors – Apache Software Foundation, Storage Networking Industry Association (SNIA)
Media Sponsors – IT for CEOs & CFOs, ITRtv, ODBMS.org, Packt
About the In-Memory Computing Summit
The In-Memory Computing Summits in Europe and North America are the only industry-wide events tailored to in-memory computing-related technologies and solutions. They are the perfect opportunity to connect with technical IT decision makers, IT implementers, and developers who make or influence purchasing decisions in the areas of in-memory computing, Big Data, Fast Data, IoT and HPC. Attendees include CEOs, CIOs, CTOs, VPs, IT directors, IT managers, data scientists, senior engineers, senior developers, architects and more who make or influence purchasing decisions about in-memory computing, Big Data, Fast Data, IoT and HPC solutions. The Summits are unique forums for networking, education and the exchange of ideas — ideas that power the new world and future of Fast Data. For more information, visit https://imcsummit.org and follow the event on Twitter @IMCSummit.