This week brought the return of Internet of Things World at the Santa Clara Convention Center. This year the show also included the Connected and Autonomous Vehicles conference. As far as technology trade shows go, it was a pretty exciting and ground breaking show. There were dozens of interesting talks and demos and well over 200 exhibitors with every possible flavor of hardware and software related to IoT that you can imagine. It was fun and educational to walk around and talk to people about what they're doing in this burgeoning field. The IoT World conference is 4 years old, and like most four year olds it is growing rapidly. It's hard to believe that the first IoT World had a mere 700 attendees. This year there were over 14,000 attendees.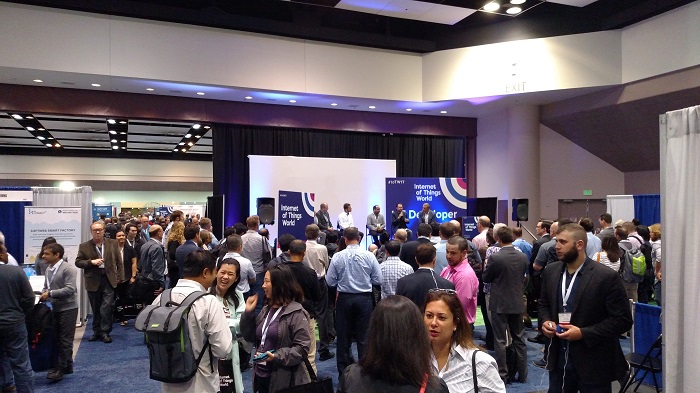 There were a lot of sessions at the conference about autonomous vehicles. The sessions about how to establish guidelines and regulations were very well attended. There were also a lot of talks about how to gain value from IoT in various industries. I talked to a few people involved in building smart cities and that was very interesting. There were quite a few talks about smart homes and smart home security. Healthcare was represented too, as was sports and entertainment. Almost all the sessions somehow tied back to the business value of IoT technology, which was great for me because I understand the technology and wanted to get a better idea of how to monetize it all.
Connect Plus Measure Equals Money
Connect Everything was a big theme at this year's conference. It's as if humanity is being (or about to be) reshaped by IoT. How we interact with each other is changing. How we interact with devices and objects is changing. Everything gets smarter, connected, and above all, measurable. Tracking and measuring are key themes in monetizing IoT. The technology is blending objects, devices, people, business and society. Every aspect of our lives is rapidly becoming monitored and measured. Society is changing and our economy is changing. The way we use objects is changing and pricing is changing. We are rapidly approaching a time when objects will no longer sell an object based on a profit margin against the cost of building it, but will sell for a price related to the value it produces to the customer.
What does this mean? It means measuring everything and converting those measurements into some kind of outcomes based subscription. Right now you can buy a car for tens of thousands of dollars, or you can lease it for a few hundred a month. Now imagine that we can track how you use the car, how often you use it, where you go, the tasks it helps you complete, every possible data point you can imagine, and not just data about the car but also data from every other sensor that tracks and reports on you. Once we can measure all that data, we can start pricing objects based on their value. Maybe the car now barely costs anything to obtain and you get a monthly subscriber bill based on usage and the value of that usage. Did you drive that car to a business meeting? Did you drive the car to pick up your child from soccer practice? Is it an autonomous car that can run you and your family around all day and then drive for a ride sharing service all night and make money for you? There's a value assigned to each and then a price for you to pay.
IoT is cool, but very little actually happens because it is cool. Things happen because they make money for people. IoT is rapidly reaching the point where there's money to be made, big money. That's when it will really take off. What will it take for that to happen?
In-Memory Computing Unlocks IoT's Value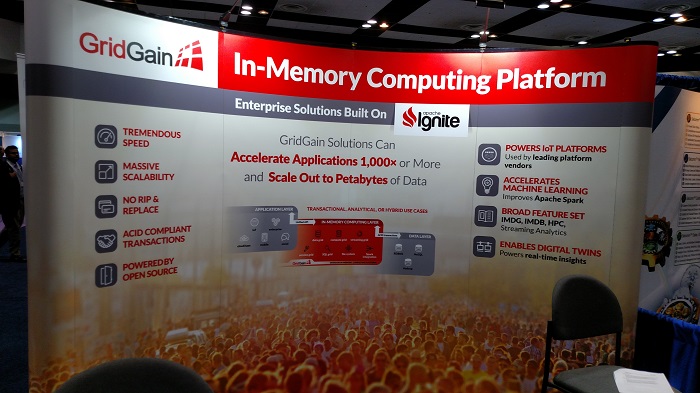 On one level, IoT means many devices, many measurements, and an incredible amount of analytics. Everything needs to take place quickly because these are real objects in the real world. For example, we're not going to sit and wait at a traffic light because the application stack for our autonomous car is overloaded. In order for providers to realize the profits they require, all of the sensors need to stream their data into high-performance and highly scalable system and then run analytics in real time to take appropriate action and generate reports. The only way its possible to do this is with in-memory computing. The conversations that I had at our booth made this clear. Everyone is scrambling to find the best way to monetize their IoT enabled do-dads and what-nots - and they will only be able to accomplish this with the performance and scalability provided by in-memory computing.
GridGain Systems' in-memory computing platform is very well suited to IoT use cases. In-memory architectures address the significant challenges in terms of speed, scalability, variable workloads, and other issues created by IoT applications.
Other GridGain Resources About IOT