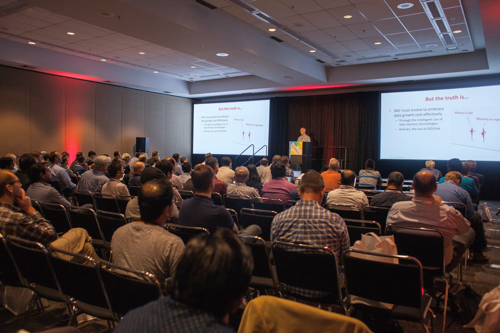 Last week GridGain Systems hosted the third-annual In-Memory Computing Summit North America. The summit, which ran October 24-25, is the only industry-wide event for in-memory computing users.
The 300+ attendees included technical decision-makers, business decision-makers, operations experts, DevOps professionals, architects and developers who make or influence purchasing decisions about in-memory computing, Big Data, Fast Data, IoT, HTAP and HPC solutions.
The In-Memory Computing Summit (#IMCSummit on Twitter) is held annually in both Europe and North America. The conferences are the only industry-wide events that focus on the full range of in-memory computing-related technologies and solutions.
A great way to catch-up on the highlights from the perspective of attendees is to read the @IMCSummit's twitter feed from last week. Check it out! 
GridGain organizes the summits as part of its ongoing commitment to helping businesses of all sizes understand how in-memory computing can help them address the speed and scale requirements of modern, data-intensive applications.
"The demand for information about in-memory computing continues to soar as more and more enterprises understand the real-time performance demands that arise from their digital transformation initiatives, such as web-scale applications and the Internet of Things," said Terry Erisman, vice president of marketing at GridGain. "Our in-memory computing experts enjoy sharing their practical knowledge about how to apply distributed in-memory computing technology to a range of data-intensive use cases."
Last week's summit consisted of keynotes, highly technical sessions and networking events over the conference's two days. The keynote's were videotaped and those will be made available soon. The sessions were also audio-tapped and will also be available along with the presentations (decks). Stay tuned. 
The next summit, per tradition, will be this spring in Europe. A specific date and venue is still being determined. Where would you like it to be? Let me know in the comments section below!