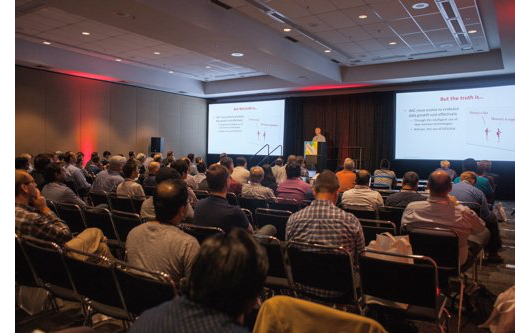 The fourth annual In-Memory Computing Summit North America is just around the corner -- happening Oct. 2-3 near San Francisco. I'm planning another community mixer so keep your evening free following the conference's first day. Details on that soon.
But first I need you to register! And here's a bonus for reading this post: I've loaded 5 FREE tickets to the conference when you use the promo code "TomVIP" during registration. If you miss that window, I've also loaded an additional 10 tickets at half price using the code "Tom50" at checkout. So before reading further -- register now (and use those codes)!
The breakout session speakers include representatives from Salesforce.com, ING Belgium, American Airlines, One Degree World, ScaleOut Software, Oracle, Redis Labs, GigaSpaces, DSAPPS, and Neeve Research. The conference will take place at the Hyatt Regency San Francisco Airport.
If you missed out on my promo codes above, you can still grab a 15 percent Early Bird discount when registering by September 9. A group discount room rate at the Hyatt Regency San Francisco Airport is available for attendees until September 10 -- or when the group block is sold out, whichever comes first.
Breakout sessions for the In-Memory Computing Summit North America will include:
How We Effectively Scaled the Contact Insights Computation From 0 Orgs to 20K Orgs with Our Spark Data Pipeline– Praveen Innamuri, Senior Engineering Manager, and Zhidong Ke, Senior Software Engineer, Salesforce.com
Exploring the Full Potential of Apache® Ignite™ Using Classless Design– David Follen, Chapter Lead, ING Belgium
Powering Digital Transformation with In-Memory Computing– Becky Wanta, Chief Operating Officer and Chief Information Officer, One Degree World
In-Memory Computing Brings Operational Intelligence to Business Challenges– William Bain, CEO, ScaleOut Software
A Brief History of In-Memory Databases– Sam Drake, TimesTen Architect, Oracle
Redis Streams, Functions and Data Structures

– Dave Nielsen, Head of Ecosystem Programs, Redis Labs
Converge Transactional and Predictive Analytics to Effectively Scale IoT– Yoav Einav, Vice President of Product, GigaSpaces
In-Memory Computing Driving Edge Computing and Blockchain Technologies– Sesh Raj, President, DSAPPS
How IMC Powers Next Generation Trading– Kevin Goldstein, Principal Architect, Neeve Research
Early Bird Registration Discounts
Attendees can receive a 15 percent Early Bird discount versus the full-price General Admission rate. The Early Bird rate of $599 ends on September 9, 2018. Register via the conference website. Email attendance or registration questions to info@imcsummit.org.
Sponsorships
By sponsoring the In-Memory Computing Summit North America, organizations gain a unique opportunity to enhance their visibility and reputation as leaders in in-memory computing products and services. They can interact with key in-memory computing business and technical decision makers, connect with technology purchasers and influencers, and help shape the future of Fast Data. Platinum, Gold and Silver sponsorship packages are currently available. Current sponsors include:
Platinum Sponsor – GridGain Systems
Silver Sponsors – Hazelcast, Neeve Research, ScaleOut Software
Association Sponsors – Apache Software Foundation, Storage Networking Industry Association (SNIA)
Media Sponsors – ODBMS.org
About the In-Memory Computing Summit
The In-Memory Computing Summits in Europe and North America are the only industry-wide events tailored to in-memory computing-related technologies and solutions. They are the perfect opportunity to connect with technical IT decision makers, IT implementers, and developers who make or influence purchasing decisions in the areas of in-memory computing, Big Data, Fast Data, IoT and HPC. Attendees include CEOs, CIOs, CTOs, VPs, IT directors, IT managers, data scientists, senior engineers, senior developers, architects and more who make or influence purchasing decisions about in-memory computing, Big Data, Fast Data, IoT and HPC solutions. The Summits are unique forums for networking, education and the exchange of ideas — ideas that power the new world and future of Fast Data. For more information, visit https://imcsummit.organd follow the event on Twitter @IMCSummit.