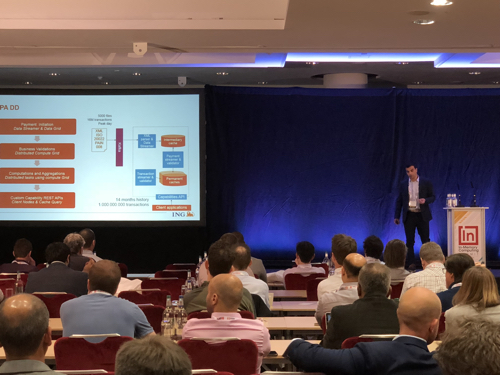 The full conference schedule was released today for the annual fourth annual In-Memory Computing Summit North America. Technical experts from American Airlines, ING Belgium, Salesforce.com, SberTech, Intel Corp., Oracle, Neeve Research, ScaleOut Software, Heimdall Data and more will lead the many conference breakout sessions.
The summit is happening October 2-3 at the conference center inside the Hyatt Regency San Francisco Airport. A significant group discount room rate at the hotel is available until Friday (September 14) or when the group block is sold out, whichever comes first.
10 free tickets available to alert readers of this post!
This just in: I've received 10 complimentary tickets to distribute to alert readers of this blog post. Enter the promo code "TomVIP" (no quotes) at checkout and the price will go down to zero. Register here (and good luck)! Missed the window? I've got your back! Enter our raffle for a chance to win a free ticket.
I'm also hosting an In-Memory Computing Community Mixer immediately following the reception on the conference's first day. Food, drinks and networking. Details soon but it will be right there in the hotel.
Conference Schedule
This year's North American conference includes 35 engaging and informative sessions on a wide range of topics, including the following and much more:
In-Memory Computing Patterns for High Volume, Real-Time Applications – Narendra Paruchuri, American Airlines
How We Effectively Scaled the Contact Insights Computation from 0 Orgs to 20k Orgs with Our Spark Data Pipeline – Praveen Innamuri and Zhidong Ke, Salesforce.com
Exploring the Full Potential of Ignite Using Class Less Design – David Follen, ING Belgium
How to Implement Data Security in Distributed Systems - Transparent Data Encryption in Apache Ignite – Nikolay Izhikov, SberTech
Using the World's Fastest OLTP DB in the Cloud and On Premises – Douglas Hood, Oracle
Expansion of System Memory using Intel Memory Drive Technology – Ravikanth Durgavajhala, Intel Corp.
Real-Time with AI - The Convergence of Big Data and AI – Colin MacNaughton, Neeve Research
Integrating Data-Parallel Analytics into Stream-Processing Using an In-Memory Data Grid – William Bain, ScaleOut Software
Memory-Centric Architecture - A New Approach to Distributed Systems – Dmitriy Setrakyan, GridGain Systems
High-Dimensional Computing, SDM Memory & Hyperscaling - A Session on the Cloud's Missing AI Component – Gil Russell, WebFeet Research
Sponsorships
Organizations that sponsor the In-Memory Computing Summit North America gain a unique opportunity to enhance their visibility and reputation as leaders in in-memory computing products and services. They can interact with key in-memory computing business and technical decision makers, connect with technology purchasers and influencers, and help shape the future of Fast Data. Platinum, Gold and Silver sponsorship packages are currently available. Current sponsors include:
Platinum Sponsor – GridGain Systems
Gold Sponsor – ScaleOut Software
Silver Sponsors – Hazelcast, Neeve Research, Heimdall Data
Association Sponsors – Apache Software Foundation, Storage Networking Industry Association (SNIA)
Media Sponsors – IT for CEOs & CFOs, ITRtv, ODBMS.org, Packt
About the In-Memory Computing Summit
The In-Memory Computing Summits in Europe and North America are the only industry-wide events tailored to in-memory computing-related technologies and solutions. They are the perfect opportunity to connect with technical IT decision makers, IT implementers, and developers who make or influence purchasing decisions in the areas of in-memory computing, Big Data, Fast Data, IoT and HPC. Attendees include CEOs, CIOs, CTOs, VPs, IT directors, IT managers, data scientists, senior engineers, senior developers, architects and more who make or influence purchasing decisions about in-memory computing, Big Data, Fast Data, IoT and HPC solutions. The Summits are unique forums for networking, education and the exchange of ideas — ideas that power the new world and future of Fast Data. For more information, visit https://imcsummit.org and follow the event on Twitter @IMCSummit and please use the hashtag #IMCSummit when sharing your conference experience.