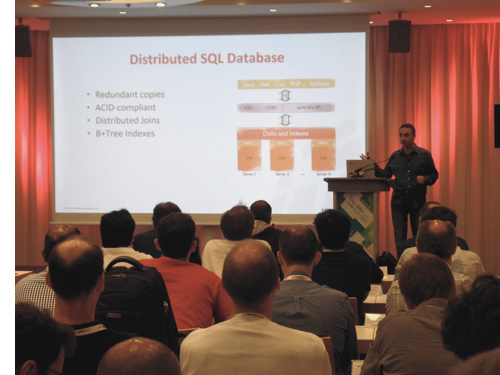 The full schedule for the second-annual In-Memory Computing Summit Europe was released today. The conference, June 25-26 in London, is the premier conference for individuals from Europe and Asia that are currently using or exploring using in-memory computing. Register by April 29 to receive a 30 percent discount.
The In-Memory Computing (IMC) Summit's breakout session schedule consist of five tracks:
Tales from the Trenches
New Capabilities
Architecture
Streaming Data
Hardware
The sessions include speakers from companies including Oracle, Intel, NEC Corporation of America, GridGain Systems, Hazelcast, iguazio, Neeve Research, ScaleOut Software, Software AG, Bouquet.ai, and VoltDB.
The venue for the IMC Summit Europe is the Park Plaza Victoria London, June 25-26. Attendees who register by April 29 will save 30 percent from the full-price registration (no limits on ticket purchases under this discount rates). 
However, since you're reading my blog post, I'm sweetening the deal….  The first 25 people who register via this link will save £325, purchasing the full summit pass for just £50 pounds! Hurry, this savings will won't last long. 
The In-Memory Computing Summit Europe 2018 is the only conference focusing on the full range of in-memory computing-related technologies and solutions. Attendees will learn about the role of in-memory computing in enterprise use cases such as digital transformation and omnichannel customer experience initiatives. The conference is attended by technical decision makers, business decision makers, architects, CTOs, developers and more who make or influence purchasing decisions about in-memory computing, Big Data, Fast Data, IoT and HPC solutions. 
Conference Schedule
This year's European conference includes 30 engaging and informative breakout sessions on a wide range of topics, including the following and more:
When One Minute Can Cost You a Million: Predicting Share Prices in Real-Time with Apache Spark and Apache Ignite – Manuel Mourato, Big Data Engineer, Nomad Tech
Intel Memory Drive Technology (IMDT) – Ravikanth Durgavajhala, SSD Solutions Architect, Intel Corporation
TimesTen Scaleout: Functionality, Architecture and Performance Tuning – Chris Jenkins, Senior Director, In-Memory Technology, Oracle
When Scientific High Performance Computing (HPC) Meets Big Data Tools – Tsvi Lev, General Manager of the NEC Israeli Research Center, NEC Corporation of America
Things You Learn as You Massively Scale – David Rolfe, Director of Solutions Engineering, VoltDB Inc.
How to Build an Event-Driven, Dynamically Re-Configurable Micro-Services Platform – Sven Beauprez, Lead Architect, The Glue
Integrating Data-Parallel Analytics into Stream-Processing Using an In-Memory Data Grid – William Bain, CEO, ScaleOut Software, Inc.
Designing Multi-Cluster Applications – Lucas Beeler, Senior Consultant, GridGain Systems
"Hybrid Transactional Analytical Processing (HTAP)" the Key to Intelligent Systems – Kevin Goldstein, Senior Principal Architect, Neeve Research
Apache Ignite as MPP Accelerator – Alexander Ermakov, Chief Technology Officer, Arenadata 
Real-Time with Artificial Intelligence: The Convergence of Big Data and Artificial Intelligence – Colin MacNaughton, Head of Engineering, Neeve Research
Fast and Robust Complex Event Processing Using Apache Ignite – Viktor Khodiakov, CEO, Gridfore
Speed-of-Light Faceted Search via Oracle In-Memory Option – Alexander Tokarev, DB Tech Lead, DataArt
Ways to Recover In-Memory Data on a Disaster – Alparslan Avci, Solutions Architect, Hazelcast
Distributed Database DevOps Dilemmas? Kubernetes to the Rescue! – Akmal Chaudhri, Technical Evangelist, GridGain Systems
Pushing Enterprise Software to the Next Level – Self-Contained Web Applications on In-Memory Platforms – Michal Nosek, Software Engineer, Tech Sales, Starcounter AB
Super-Saver Registration Discounts
Reminder, attendees receive a 30 percent discount by registering early.The Super Saver General Admission rate of £375 ends on April 29, 2018. Register via the conference website, or email attendance and registration questions to info@imcsummit.org.
Sponsorships 
By sponsoring the In-Memory Computing Summit Europe, organizations gain a unique opportunity to enhance their visibility and reputation as leaders in in-memory computing products and services. They can interact with key in-memory computing business and technical decision makers, connect with technology purchasers and influencers, and help shape the future of Fast Data. A limited number of Platinum, Gold and Silver sponsorship packages are currently available. Some of the current sponsors include:
Platinum Sponsors – GridGain Systems
Gold Sponsors – ScaleOut Software
Association Sponsors – Storage Networking Industry Association (SNIA)
Media Sponsors – Data Centre Solutions, Digitalisation World, Enterprise Times, IT for CEOs and CFOs, IT Pro
Stay up-to-date on the latest news about the this exciting two-day conference by following the IMC Summit on Twitter @imcsummit.