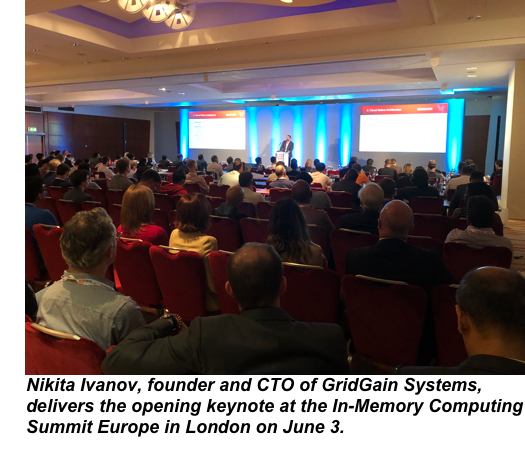 Join the in-memory computing community for two days of learning and networking at the In-Memory Computing Summit North America 2019, November 13-14 at the Hyatt Regency San Francisco Airport's conference center.
I invite current users of in-memory computing to contribute to the conversations by submitting a speaking proposal by August 9 that's focused on one or more of the following topics:
* User stories and business use cases
* What's new and upcoming in in-memory computing
* Best design practices and performance optimizations
* High availability, clustering, and replication
* Monitoring, management, automation tools and best practices
* In-memory computing in the cloud
Join the GridGain Forums and get a FREE ticket (today only!)
For those interested in attending, Super-Saver pricing is available through September 8 for $399. And for alert readers: if you'd like to attend for FREE, everyone who joins the GridGain Forums (also free) TODAY will get an email from me with a code for a full-access pass. Just register for the GridGain Forums here by the end of today (August 5)!
I also invite you to download GridGain Community Edition (also free and open source) and share your questions and observations with the community. GridGain Community Edition is a hardened, high performance, open source in-memory computing platform that's built upon Apache® Ignite™ and includes additional functionality, tuning and patches developed by GridGain to deliver optimal performance.
The In-Memory Computing Summit deigned for technical decision-makers, business decision-makers, software architects, CTOs, developers (and more) who make or influence purchasing decisions about in-memory computing, Big Data, Fast Data, IoT and HPC solutions.
It's the only industry-wide event focusing on the full range of in-memory computing-related technologies and solutions held in North America. Attendees will learn about the role of in-memory computing in the digital transformation of enterprises.
#IMCSummit Conference Tracks
* New Capabilities: Hear about the latest advancements in in-memory computing architectures and the future direction of the technology
* Architecture: Hear from users and vendors about current developments in software and hardware solutions for in-memory computing
* Streaming Data: Users and vendors will discuss the latest developments in streaming data use cases and technology
* Tales from the Trenches: Leading in-memory computing technology users will talk about their lessons learned implementing in-memory computing
* Hardware: Hear about the latest developments in memory, server and related hardware technologies from leading vendors
Follow the In-Memory Computing Summit on Twitter, Facebook and LinkedIn. I hope to see you at the #IMCSummit in November!