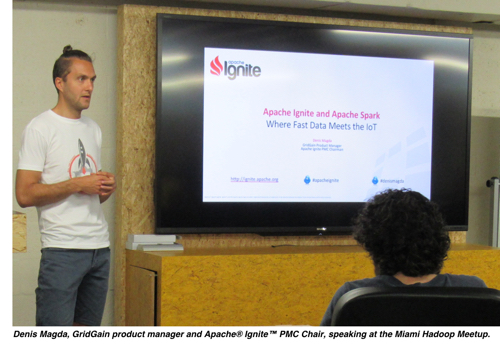 GridGain organizes two excellent in-memory computing meetups – one in the San Francisco Bay Area and the other nearly 3,000 miles away in New York City. Both will have meetings this month… and the NYC meetup will make its inaugural gathering Sept. 26 in the heart of Times Square.
The next Bay Area In-Memory Computing Meetup will be Sept. 20 at Chartboost – 85 Second Street in San Francisco. The NYC In-Memory Computing Meetup will be Sept. 26 at Guys American Kitchen and Bar at 220 West 44th Street.
There is no cost but you will be asked to enjoy good food, drinks and a great talk.
Bay Area In-Memory Computing Meetup
The Bay Area meetup will feature a talk by GridGain product manager Denis Magda, who is also Apache® Ignite™ PMC Chair. His talk, titled "Apache Spark, Ignite and Flink: Where Fast Data Meets the IoT," will focus on how to stream data to an Apache Ignite cluster from embedded devices and real-time data processing with Apache Flink.
NYC In-Memory Computing Meetup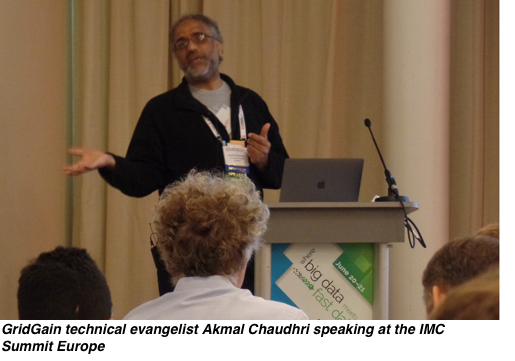 GridGain technical evangelist Akmal Chaudhri, PhD, will be speaking at the NYC meetup. His talk, "Powering up banks and financial institutions with distributed systems," will explore Apache Ignite features for financial applications, such as ACID compliance, SQL compatibility, persistence, replication, security, fault tolerance and more.
A customer case study will also be presented. We'll analyze one of the largest Apache Ignite deployments in the world at one of the largest banks in Eastern Europe, by walking through the overall architecture and demonstrating various implementation and deployment challenges.
We'll also be raffling off cool Apache Ignite t-shirts along with passes to the In-Memory Computing Summit Silicon Valley, Oct. 24-25 at the South San Francisco Conference Center. I've also created a special raffle just for readers of this blog post. Two winners will be selected at random each Friday – click here for your chance to win. Good luck!
P.S. If you'd like to speak at one of these meetups, and/or become a co-organizer, please let me know in the comments section below.