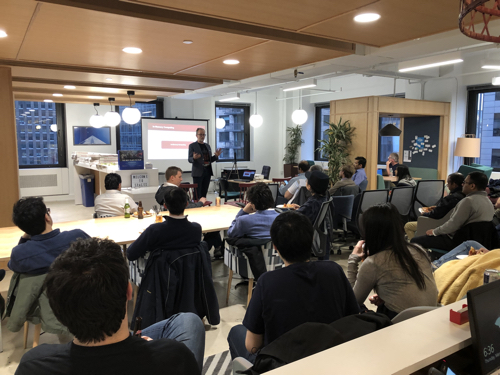 GridGain Systems organizes several In-Memory Computing Meetups around the world each month. And we're always looking for expert speakers willing to share highly technical presentations around distributed systems.
Membership at these meetups is comprised of data scientists, developers, architects, technical decision-makers and more. Whether you are a speaker or attendee, participation in these meetups is always free thanks to sponsorship by GridGain and Oracle.
Speakers are not limited by any means to GridGain users, customers or fans. The In-Memory Computing Meetups are open to everyone: competitors, partners, academics, startups, governmental, etc. Submit your talk here.
Here's the list of meetups we currently organize:
Some themes to consider when submitting your talk proposal:
User stories and business use cases

What's new and upcoming in in-memory computing

Best design practices and performance optimizations

High availability, clustering, and replication

Monitoring, management, automation tools and best practices

In-memory computing in the cloud
If you have another topic or theme, that will also be welcome. Just be sure not to submit a blatant sales pitch, as most members have given us feedback that they do not want to sit through those type of talks. The more technical your talk is, the more attendees will like it.
All of our speakers receive complimentary tickets to the annual In-Memory Computing Summit of their choice – either the In-Memory Computing Summit Europe or the In-Memory Computing Summit North America. The next IMCS Europe conference is happening June 3-4 in London. The next IMCS North America conference is scheduled for November 12-13 in San Francisco.
In-memory computing is changing the computing landscape and opening the path to next generation applications for use cases in areas such as web-scale applications, the Internet of Things (IoT), and Big Data analytics. In-Memory Computing Meetup and IMCS attendees learn about the wealth of in-memory computing technologies now available and learn best practices from users and practitioners.
Are you ready to share your in-memory computing story? Submit your talk here.