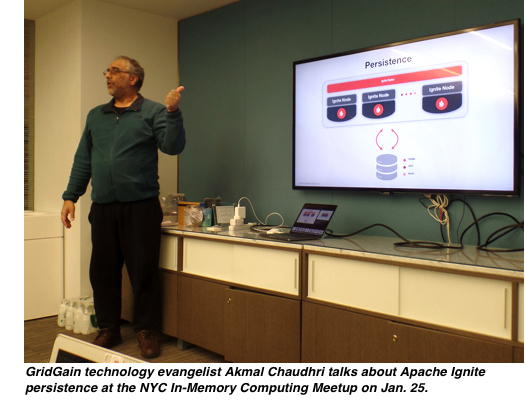 January 31 will be a busy day for three of our GridGain/Apache Ignite experts, speaking at meetups in New York City, the San Francisco Bay Area and Los Angeles.
First to present will be GridGain senior solutions architect Fotios Filacouris. "Foti" will be speaking to a "sold-out" crowd (RSVPs had to be capped at 207!) at the New York City Java Meetup Group. His talk is titled, "Catch an intro to Apache Ignite and skyrocket Java applications."
Amazon Web Services was kind enough to not only host this event, but also provide the pizza, beverages and some cool swag.
By the time that meetup ends, the Big Data Application Meetup will just be getting started at Cask HQ in Palo Alto. Denis Magda, GridGain's director of product management (and Apache Ignite PMC chair) will be presenting, "Apache Spark and Apache Ignite: Where Fast Data Meets the IoT."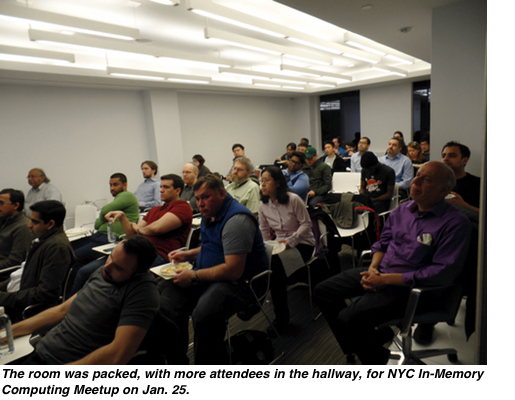 GridGain is sponsoring this event. RSVPs are still open, but at 146, I'm guessing admission tickets will be closed soon. Cask will be recoding Denis' talk and I'll add it to this post when it's available.
Finally, 30 minutes after Denis' meetup begins, GridGain solution architect Dani Traphagen will speak at the Los Angeles Kubernetes Meetup. The title of her talk is, "Deploy like a Boss: Using Kubernetes and Apache Ignite!" That meetup takes place at Verizon Digital Media Services.
I tried to get a few more talks this week, but GridGain technology evangelist Akmal Chaudhri needed to recover from his travels to San Francisco and New York City last week. He spoke at the NYC In-Memory Computing Meetup on Jan. 25 to a packed room of 50+ people. (Not bad for this new meetup's second event.)
Akmal's talk was titled, "Building consistent and highly available distributed systems with Apache Ignite and GridGain." Here's but a small sample of his talk – in which he explains what GridGain is all about. He calls it "the in-memory computing platform that is durable, strongly consistent and highly available with powerful SQL, key-value and processing APIs."
Many more meetups to come! Stay tuned for an update on those in-memory computing events next week. If you'd like one of our experts to speak at your meetup, please let me know in the comments below.