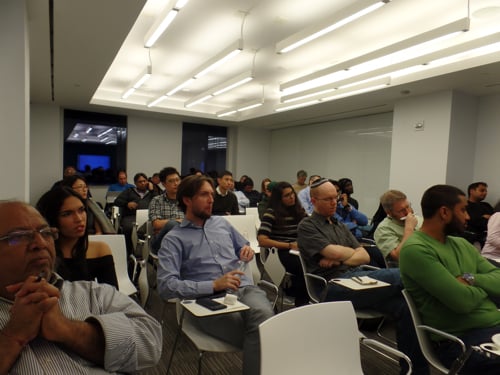 I'm really looking forward to this evening's gathering of the Bay Area In-Memory Computing Meetup in Menlo Park, California. Great food and drinks in addition to raffle prizes. Oh, and fantastic talks, too! Over 100 people have RSVP'd so I suggest that you do the same because space is limited. RSVP here.
Dmitriy Setrakyan, founder and Chief Product Officer at GridGain, will be sharing some of the current best practices in HTAP, and the differences between two of the more common technologies companies use: Apache® Cassandra™ and Apache® Ignite™. His talk is titled: "Comparing Apache Ignite and Cassandra for Hybrid Transactional/Analytical Processing (HTAP)."
There will also be talks from in-memory computing pioneer Doug Hood of Oracle and Kevin Xu, general manager of U.S. Strategy and Operations at PingCAP.
Like the London meetup, this is a free event but you must RSVP to attend. Get all of the details from the Bay Area In-Memory Computing Meetup's page.
If you or an expert on your team would like to speak at one of the In-Memory Computing Meetups we organize here at GridGain, please take a few moments to fill out this speaker request form. (That's how we found Kevin over at PingCAP).
Meanwhile, on the other side of the pond…
Our technology evangelist Akmal Chaudhri is back home in London this week but he's not getting much time to rest from last week's flurry of meetups in and Washington, D.C.
Yesterday evening he was one of the featured speakers at the London In-Memory Computing Meetup.
We raffled off a two full-access passes to the In-Memory Computing Summit Europe 2018, June 25-26 in London. It's the only in-memory computing conference that focuses on the full range of in-memory computing-related technologies and solutions.
And if you can get to London for the event, I also invite you to enter our raffle for a chance to win a full-access pass for only £20 (versus the £525 full price) to the second-annual In-Memory Computing Summit Europe! It's happening June 25-26 at the Park Plaza Victoria in London. Enter here (and good luck)!
In addition to Akmal, there were also be talks by Oracle's Chris Jenkins, Senior Director, In-Memory Technology — and VoltDB's David Rolfe, Director of Solutions Engineering (EMEA).
Akmal will be in Paris tomorrow to speak at the Big Data, Paris v 7.0 event. It'll be an evening of exciting talks from a number of data science industry leaders and experts, followed by enough time for a few beers, pizza and networking. It's also a free event but again an RSVP is needed. If you'll be in Paris, sign up here.
And since he was between meetups today, Akmal penned a blog post — the last in his series on Apache Ignite Transactions Architecture. Today's headline: "Apache Ignite Transaction Handling at the level of 3rd Party Persistence." He never stops moving!
And last but not least this week, GridGain is one of the sponsors of the Data Science Unconference & Failconference in St. Petersburg, Russia on Saturday (April 14). This is an informal meeting for everyone who is interested in the sphere of data analysis and machine learning: pizza, beer and great talks on tap.
That's all for this edition. See you next time!