Since our last update, GridGain technology evangelist Akmal Chaudhri has been on the road speaking at several technical meetups around the world about distributed computing and the open-source Apache® Ignite™ in-memory computing platform.
On Sept. 18 he was in Cambridge, England, where he gave a talk at the Cambridge .NET User Group titled, "Scale Out and Conquer: Apache Ignite for .NET Users."
Back in San Francisco, GridGain product manager and Apache Ignite PMC chair Denis Magda took the floor at the Bay Area Apache Ignite Meetup on Sept. 20, where he presented on, "Apache Spark, Ignite and Flink: Where Fast Data Meets the IoT." We recorded that talk for your viewing pleasure.
GridGain in the Big Apple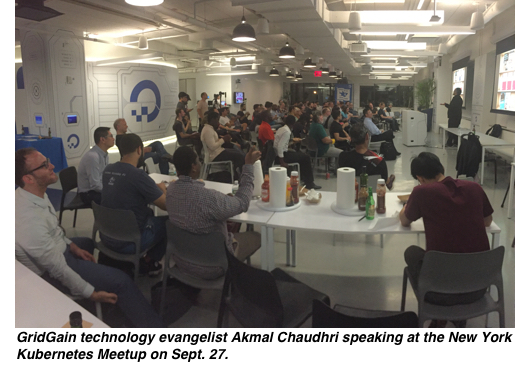 The following week, in New York City, Akmal was a blur of activity – speaking at three meetups and also greeting visitors to GridGain's booth at the Strata Data Conference.
On Sept. 20, he took the floor at the Internet of Things (IoT) New York Meetup where is presented, "

Apache Spark, Ignite and Flink: Where Fast Data Meets the IoT."

The following day he kicked-off the inaugural NYC In-Memory Computing Meetup. 

Akmal was all about fintech, presenting "Powering Up Banks and Financial Institutions with Distributed Systems."

And on Wednesday he was a featured speaker at the New York Kubernetes Meetup.
Akmal's talk at the Kubernetes Meetup -- which was nearly standing-room only -- was recorded (the video is below). He provided a DevOp's perspective on the orchestration of distributed databases.
(Please forgive the audio quality -- as the camera was setup quite far back at the other side of the room.) 
Apache Ignite webinar
Earlier that day, on Sept. 27, Akmal hosted a webinar titled, "Better Machine Learning with Apache Ignite." He explained how the Compute Grid, Data Grid, and Machine Learning Grid components of Apache Ignite work together to enable your business to start reaping the benefits of machine learning. There are also several examples. Click the link above and register to view the recording.
Looking ahead for the next couple weeks…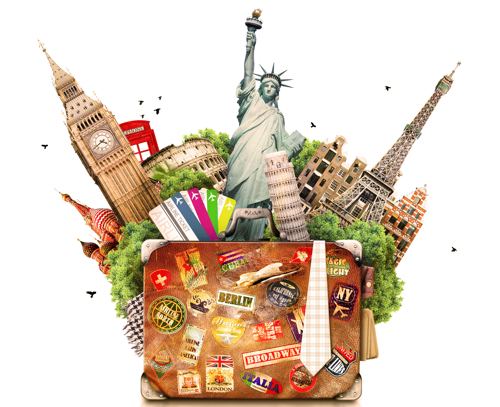 Oct 13: Conference -- Akmal will be a featured speaker at "Big Data Week London 2017: A Festival of Data." In this presentation, attendees will learn about important Apache Ignite features for financial applications, such as ACID compliance, SQL compatibility, persistence, replication, security, fault tolerance and more. A customer case study will also be presented.
Oct. 14: Conference -- Open Data Science Conference (ODSC). Akmal will examine some of the main components of Apache Ignite, such as the Compute Grid, Data Grid and the Machine Learning Grid. Through examples, attendees will learn how Apache Ignite can be used for data analysis.
Oct. 18: Webinar – "Apache® Spark™ and Apache® Ignite™: Where Fast Data Meets the IoT." GridGain product manager and Apache Ignite PMC Chair Denis Magda will discuss a Fast Data solution that can receive endless streams from the Internet of Things (IoT) and be capable of processing the streams in real-time using Apache Ignite's cluster resources. You will also learn about data streaming to an Apache Ignite cluster from embedded devices and real-time data processing with Apache Spark.
Oct. 18: Meetup -- Silicon Valley Java User Group. Valentin (Val) Kulichenko, lead architect at GridGain, will introduce the many components of the open-source Apache Ignite. Attendees, as Java professionals, will learn how to solve some of the most demanding scalability and performance challenges. He will also cover a few typical use cases and work through some code examples.
Oct. 19: Meetup -- Bay Area In-Memory Computing Meetup in conjunction with Data Riders, a Big Data and Cloud Meetup presents: An evening of hands-on Apache Ignite tech talks. Where? GE Digital offices at 2623 Camino Ramon, San Ramon, Calif. Who? Val and Denis!
Oct. 19: Meetup -- Eurostaff Big Data London. Akmal has a meetup right at home as he leads with a talk about better machine learning with Apache Ignite.  
Oct. 24-25: Conference --The 3rd annual In-Memory Computing Summit 2017 – North America! Would you like to attend for free? Enter our raffle for a chance to win a full-access conference pass! Two winners are drawn every Friday.
Blog posts
GridGain blog. "How 24 Hour Fitness uses in-memory computing to assist with a SaaS integration." For my previous post I interviewed Craig Gresbrink, a solutions architect at 24 Hour Fitness. We discussed how in-memory computing is assisting 24 Hour Fitness with its SaaS integrations. Craig will be a featured presenter at In-Memory Computing Summit. His in-depth talk will detail how 24 Hour Fitness has used two different in-memory solutions to solve integration needs, along with the benefits these solutions are providing.
Dmitriy's blog. GridGain founder and chief product officer Dmitriy Setrakyan posted on, "What is Apache Ignite?" He writes, "In summary, Ignite looks like a distributed data storage that can work both, in-memory and on-disk, and provides SQL, key-value and processing APIs to the data. Sounds simple enough. However, to get a complete picture, perhaps it is better to define Ignite by answering several "Is Ignite a ...?" questions…"
In the news
In case you missed it... this story appeared in "bobsguide" on Sept. 5 titled, "What is the future of in-memory computing?"

We also issued a couple of press releases:
> GridGain Systems Experts Help Businesses Harness the Power of In-Memory Computing at Multiple Industry Events
and…
> In-Memory Computing Summit North America 2017 Announces Breakout Session Schedule
Useful in-memory computing resources
Please share any resources I've excluded in the comments section and I'll include them in the next edition.