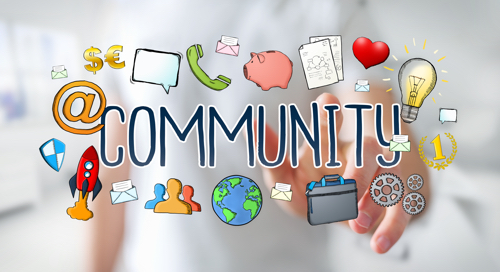 Summer is in the rear-view mirror as autumn nears (it begins Sept. 22) and things are really speeding up in the GridGain and Apache® Ignite™ communities. I'm happy that you are a part of it! This is our third community update -- so let's get started.
GridGain Systems experts have already spoken at two meetups this month, both in Silicon Valley, but there are several more scheduled this month around the world.
On Sept. 9 GridGain product manager and Apache Ignite PMC chair Denis Magda was the featured presenter at the Data Riders, a Big Data and Cloud meetup group, in Santa Clara, Calif. His talk, titled "Apache Spark and Apache® Ignite™: Where Fast Data Meets the IoT," was highly rated and we're planning an hands-on workshop with meetup organizers for November.
On Sept. 13 Denis also spoke at the SF Big Analytics Meetup in Mountain View, Calif. Again, to a packed room. The topic of his talk was "Better Machine Learning with Apache Ignite."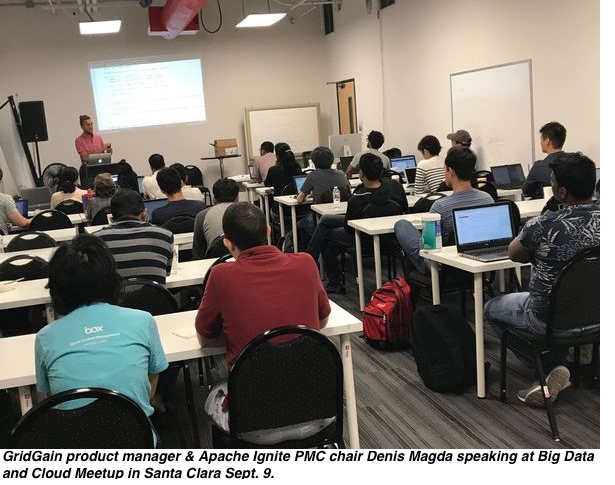 But Denis isn't having all the fun – next Monday (Sept. 18), GridGain technology evangelist Akmal Chaudhri will speak at the Cambridge .NET User Group. The title of his talk: "Scale Out and Conquer: Apache Ignite for .NET Users."
We're looking for more meetups to speak at this month, so if you're an organizer and would like us to speak at your meetup (anywhere in the world) just let me know in the comments section below.
In the meantime, here are the meetups planned for the remainder of September.
Meetups
See? I told you Denis wasn't having all the fun! Akmal is definitely on the road again. J
Webinars
Conferences
Oct. 24-25 marks the third-annual In-Memory Computing Summit North America. The conference, at the South San Francisco Conference Center, is the only industry-wide event focusing on the full range of in-memory computing-related technologies and solutions held in North America.
What to attend for free? Enter our raffle! Two winners selected every Friday. Go for it!
We'll also be at the Strata + Hadoop World conference in New York City, which runs Sept. 27-28. GridGain will be in booth 710 to provide product demos and discuss the need for in-memory computing for real-time big data applications. So stop by and say "hi!"
Blog posts
All that travel has given Akmal time to write some excellent Apache Ignite blog posts so far this month.
On Sept. 5, he published "Using Java and .NET apps to connect to an Apache Ignite cluster. That post details how to create an Apache Ignite cluster that can support the reading and writing of user-defined objects in a common storage format. This is particularly useful in situations where applications need to work with objects but these objects will be accessed by different programming languages and frameworks.
I even got into the act on Sept. 6, publishing a "sneak peek of October's In-Memory Computing Summit." I shared a preview of the 40 breakout sessions planned for the Oct. 24-25 conference in South San Francisco, Calif. As a bonus, I invite you to enter to win a free pass to the summit in our raffle (two winners drawn each week). And yes, people do win! Here's a look at who's going to the IMC Summit on us so far (winner's circle).
On Sept. 7, GridGain founder and Chief Product Officer Dmitriy Setrakyan published "Apache Ignite - In Memory Performance with Durability of Disk."
Next up, on Sept. 12, was Akmal, who published "Kubernetes and Apache® Ignite™ Deployment on AWS." That post walked through the steps required to get Kubernetes and Apache Ignite deployed on Amazon Web Services (AWS).
And then on Sept. 13 Dmitriy published "What is Apache Ignite." I think the headline of that one is self-explanatory. J
In the news
GridGain founder and CTO Nikita Ivanov is also an InfoWorld contributor. Read the first in his series on in-memory computing, "Ensuring big data and fast data performance with in-memory computing."
Useful in-memory computing resources
Please share any resources I've excluded in the comments section and I'll include them in the next edition.