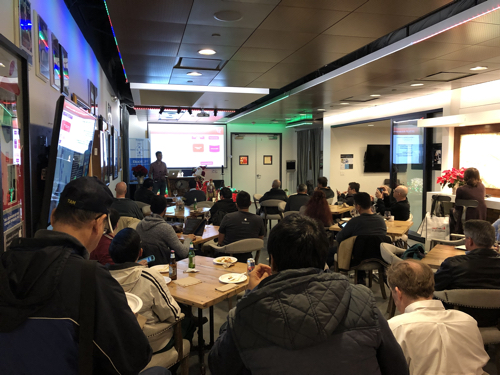 We've got a busy week ahead for in-memory computing enthusiasts. A meetup tonight in New York City and two in-memory workshops tomorrow evening in Boston and Silicon Valley.
GridGain and Apache® Ignite™ evangelist Akmal Chaudhri is in New York City for tonight's NYC In-Memory Computing Meetup. His talk is titled, "Relational DBMSs: Faster Transactions and Analytics with In-Memory Computing."
The talk will explain how combining Apache Ignite with a Relational DBMS offers enterprises the best of both open-source worlds: a highly scalable, high-velocity grid-based in-memory SQL database, with a robust fully-featured SQL persistent datastore for advanced analytics and data-warehouse capabilities.
Topics to be covered:
How to complement a Relational DBMS for Hybrid Transactional/Analytical Processing (HTAP) by leveraging the massive parallel processing and SQL capabilities of Apache Ignite.

How to use Apache Ignite as an In-Memory Data Grid that stores data in memory and boosts applications performance by offloading reads from a Relational DBMS.

The strategic benefits of using Apache Ignite instead of Memcache, Redis, GigaSpaces, or Oracle Coherence.
Then, on Tuesday, Akmal and his boss will be leading the same hands-on in-memory computing workshop on both sides of the country. It's titled: "In-Memory Computing Essentials for Data Scientists."
Akmal will be running his workshop at the BOSTON #ODSC Meetup; Denis Magda, director of product management at GridGain and Apache Ignite vice president, will be presiding over his workshop at the Stanford Data Science Machine Learning Meetup.

At both workshops attendees will be introduced to the fundamental capabilities of in-memory computing platforms that boost highly-loaded applications, research projects, risk analysis and fraud detection tasks by storing and processing massive amounts of data in memory and on disk across a cluster of machines.
These capabilities and benefits will be demonstrated with the usage of Apache Ignite which is the in-memory computing platform that is durable, strongly consistent, and highly available with powerful SQL, key-value and processing APIs.
By the end of the workshop the attendees will learn how to:
Deploy a distributed Apache Ignite cluster.

Preload data into the cluster deciding how much RAM is to be available for storage needs.

Create custom calculations and algorithms and utilize cluster's resources for their execution.

Solve optimizations problems by simulating the process of biological evolution.

Apply machine learning algorithms supported by Apache Ignite.
If you'd like Akmal or Denis to speak at your meetups, or lead an in-memory computing workshop, please let me know. Just leave a comment below and I'll contact you. See you next week!