Our experts were busy speaking at a couple of events this week: the NYC In-Memory Computing Meetup, and on the other coast, at the OpenIoT Summit North America in Portland. And next week will be even busier as our experts hit the road once again to connect with customers, Apache Ignite users and in-memory computing enthusiasts.
Week in Review: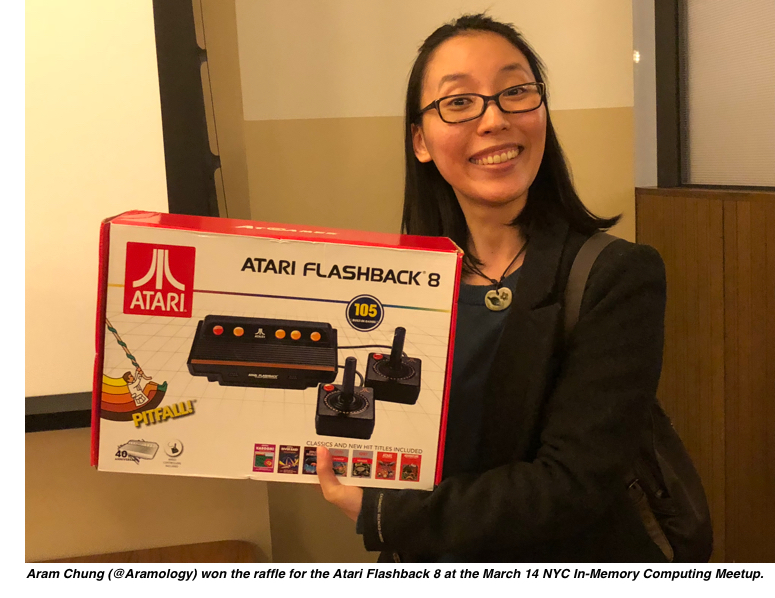 Our friends at WeWork donated a great spot in Manhattan for Wednesday's NYC In-Memory Computing Meetup.
GridGain senior solutions architect Fotios Filacouris walked attendees through some reference architectures on various use cases that have benefited from using Apache Ignite.
He covered the "Why" and "How" of each use case and the pros and cons of different technology choices.
Foti also shared best practices using Apache Ignite to build the right solution for your project (with Kafka, noSQL, RDBMS, Spark, Kubernetes and container deployments, etc.).
Sam Drake, an architect of the Oracle TimesTen In-Memory Database, presented a "a brief history of In-Memory Databases." The talk provided a historical look at the evolution of in-memory databases from both a technical and market perspective.
In related news, our resident frequent flier Akmal Chaudhri will be flying to Atlanta for a mini-Meetup tour evangelizing Apache Ignite. He just wrapped the OpenIoT Summit North America in Portland, where his popular session demonstrated data streaming to an Apache Ignite cluster from embedded devices and real-time data processing with Apache Spark.
Monday
Our technology evangelist will speak at the first of his scheduled three meetups that week: Big Bang Data Science & Analytics Solutions.
The members of this meetup are obsessed with data science and analytics and Akmal's talk won't disappoint. He'll unpack some of Apache Ignite's main components (the Compute Grid, Data Grid and the Machine Learning Grid) and then, through examples, explain how Apache Ignite can be used for data analysis.
A big thanks to Big Bang Data Science meetup co-organizer Mo Medwani for putting this all together!
Tuesday
March 20 is the first day of Spring and our experts will be at two events some 5,000 miles apart.
In Georgia, Akmal will be speaking at the Atlanta Apache Spark User Group. A big "Thank You" to this meetup's organizer, Craig Warman, for putting everything together for Akmal's talk.
Meanwhile, in Moscow, GridGain engineer Artem Schitow will unveil what's new in Apache Ignite 2.4 and then GridGain head architect Alexey Goncharuk will demonstrate the art of sizing Apache Ignite clusters (delivered at the architect level) at the Moscow Apache Ignite Meetup. My colleague in Moscow Kseniya Romanova organized and will also serve as MC at both events. Great job, Kseniya!
Wednesday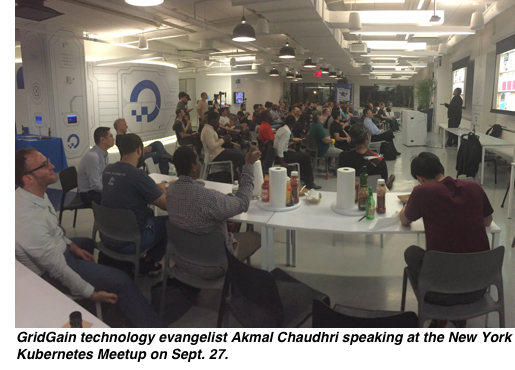 Akmal concludes his visit to Atlanta with a talk at the DevOpsATL Meetup about distributed databases and Kubernetes. In his presentation, Akmal will show attendees how Kubernetes can orchestrate a distributed database like Apache Ignite, in particular:
Cluster Assembling - database nodes auto-discovery in Kubernetes.
Database Resilience - automated horizontal scalability.
Database Availability - what's the role of Kubernetes and the database.
Utilizing both RAM and disk - set up Apache Ignite in a way to get in-memory performance with the durability of disk.
A shout-out to DevOpsATL Meetup organizer Chris Corriere for inviting Akmal to present!
On Friday, GridGain Systems president & CEO Abe Kleinfeld will be speaking on a panel discussion titled: "Scaling-up fast: Unlocking leadership & talent to generate growth -- lessons from the Tech Tour Growth50." The Tech Tour 2018 Growth Summit, March 22-23 in Geneva & Lausanne, Switzerland, will bring together 50+ of Europe's boldest CEOs: the entrepreneurs with the vision and drive to build game changing businesses.
That's all for this update. Meantime, if you are a meetup organizer (or would like to start one), please let me know. Our experts are always traveling and chances are one or more of them will be passing through your town soon.