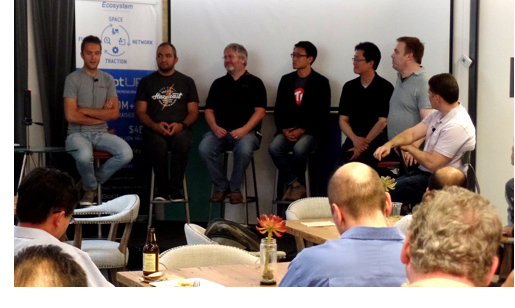 Summer begins today but things are not slowing down here on the community front!
Last week, on June 13, GridGain's Rob Meyer moderated a panel discussion around distributed systems and the future of in-memory computing at the Bay Area In-Memory Computing Meetup in Menlo Park, California.
Denis Magda, director of product management and Apache Ignite PMC chair, sat on the panel. That's him to the very left; Rob is to the very right.
Meanwhile, in Berlin, technology evangelist Akmal Chaudhri gave two talks at the Apache EU Roadshow featuring Apache® Ignite™ on June 14. Akmal also presented at OSDC last week in Berlin – delivering a talk featuring the data science components of Apache Ignite.
This week Akmal was once again in Germany, but this time speaking at Hamburg Container Days conference, which ran June 18-20. His talk focused on how Kubernetes can orchestrate a distributed database like Apache Ignite -- details here.
Yesterday, Denis led a webinar titled: "Building New Hybrid Transactional/Operational Processing (HTAP) Applications With Apache Ignite. It was the second in a series in his in-memory computing best practices series. Part 1 was titled Adding Speed and Scale to Existing Applications with No Rip and Replace Using Apache Ignite. Both were recorded and you can access them via those URLs.
Wrapping the week, tomorrow (June 22), it's time for another gathering of the Moscow In-Memory Computing Meetup. This event's theme is: "In-Memory Computing in Banking, Insurance companies and Fintech: how not to be late."
And next week is just plain busy!
The In-Memory Computing Summit Europe kicks off Monday in London. The two-day conference is the only in-memory computing event that focuses on the full range of in-memory computing-related technologies and solutions. If you haven't obtained your ticket yet, grab one for just £20 by using my promo code Tom20. Register here.
Then join me across the street from the venue at the Brass Monkey Pub for the In-Memory Computing Community Mixer. Free drinks and food but an RSVP Eventbrite ticket is required since space is limited.
Meanwhile, next week in New York City...
On Tuesday, as the #IMCS conference continues across the pond, Denis will be preparing for the first of three meetup talks in the Big Apple.
Tuesday (June 26): SQL NYC, The NoSQL & NewSQL Database Meetup. Denis' talk is titled, "Cassandra vs Apache Ignite for HTAP Hybrid Transactional Analytical Processing." Denis will share current best-practices for HTAP along with the differences between Apache Cassandra and Apache Ignite, two of the most-common technologies utilized for Hybrid Transactional/Analytical Processing.
Wednesday (June 27)): NYC In-Memory Computing Meetup. His talk is titled, "Scale Out and Conquer: Architectural Decisions Behind Distributed In-Memory Systems."
Thursday (June 28)): Docker New York City Meetup. In this talk, Denis will explain how Kubernetes can orchestrate a distributed database like Apache Ignite, in particular:

Cluster Assembling - database nodes auto-discovery in Kubernetes.
Database Resilience - automated horizontal scalability.
Database Availability - what's the role of Kubernetes and the database.
Utilizing both RAM and disk - set up Apache Ignite in a way to get in-memory performance with the durability of disk.
That's a wrap! Be sure to follow the In-Memory Computing Summit (@IMCSummit) on Twitter to keep up with all of the news from the conference and use the hashtag #IMCSummit if you're tweeting from the event.
And in case you'd like to catch last week's panel discussion, it's on the GridGain YouTube Channel.