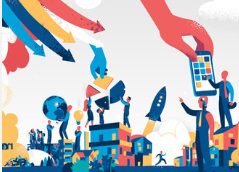 This week features two meetups in London and another in Silicon Valley. Can't get to either locale? Tune-in to our April 30 webinar and learn more about continuous machine learning and deep learning with Apache® Ignite™ and TensorFlow.
GridGain's Stephen Darlington will be speaking tomorrow evening (April 30) at the Data Natives London Meetup. The event's theme is "Big Data, London v 10.0" and Stephen will introduce Apache Ignite and then demonstrate the easiest way to get data into Ignite without coding (the key, he'll explain, is to already have the data in CSV format).
Meanwhile, in Silicon Valley (Menlo Park to be specific), GridGain Systems will be sponsoring another Bay Area In-Memory Computing Meetup. The speakers will be Pat Patterson, director of evangelism at StreamSets, and Andy Rivenes, product manager at Oracle for Database In-Memory.
Pat's talk, "Ingesting Streaming Data for Analysis in Apache Ignite," is aimed at data architects, data engineers and developers. He's explain how to use the open source StreamSets Data Collector to build robust data pipelines. Attendees will learn how to collect data from cloud platforms such as Amazon and Salesforce, devices, relational databases and other sources, continuously stream it to Ignite, and then use features such as Ignite's continuous queries to perform streaming analysis.
Also happening April 30 is the next GridGain webinar, this one titled: "Achieving Continuous Machine and Deep Learning with Apache Ignite and TensorFlow." The one-hour live event starts at 11 a.m. Pacific time (2 p.m. Eastern). GridGain's Yury Babak will explain how machine learning and deep learning work with Apache Ignite, and how to get started.
Finally, on May 2, GridGain will be hosting the next London In-Memory Computing Meetup.
Courtney Robinson, CTO of Hypi, will preside over a 2-hour hands-on workshop featuring Apache Ignite. Attendees will leave this event knowing how to build a production-ready in-memory-based application.
That's all for this update! See you next time.