GridGain is a Platinum Sponsor and Speaker at CloudDevelop 2012, Aug 3rd, Columbus, OH.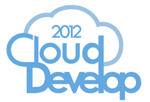 GridGain Systems is a platinum sponsor and the speaker at
CloudDevelop 2012
hosted in Columbus, OH on August 3rd, 2012. Jon Webster will present
"In-Memory BigData: Everything You Need To Know"
, in-depth discussion about why, what and when of in-memory processing of large data sets in real time.
Hope to see you there and stop by our booth!