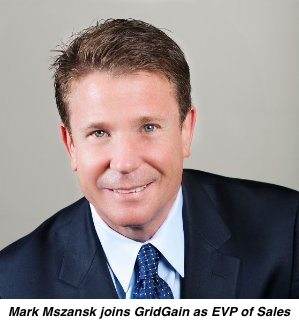 GridGain Systems today announced that it has named Mark Mszanski, a software sales executive with more than 25 years of experience, as executive vice president of sales. He will be responsible for leading GridGain's global sales efforts.
Abe Kleinfeld, GridGain's president and CEO, said Mark brings the vision and experience needed to continue the company's four-years-long (and counting) triple-digit annual sales growth by exploring new markets, building highly effective teams, and utilizing innovative strategies to deliver value to customers.
"He is a great fit for our team, and we are excited to have him onboard," Abe said.
Mark specializes in recruiting, developing and leading geographically dispersed sales teams and developing highly effective go-to-market strategies. Prior to GridGain, he was at Akana Software Inc., where he served as vice president of sales. Akana is a leader in the API Management and Application Services Governance space that was recently purchased by Rogue Wave Software.
During his tenure, Mark transformed the sales organization for growth and quota attainment, securing Fortune 500 accounts. Before Akana, he was vice president of Financial Services for Kony America's Solutions Inc., where he built and managed a team focused on financial services in the U.S. and Latin America. His sales team accounted for 50 percent of Kony's total revenue. Prior to Kony, Mark held executive management positions at Evolven Software Inc., Hewlett Packard, DataSynapse Inc., BEA Systems, and more.
"Having just been ranked #187 on the Inc. 5000 list of the nation's fastest-growing private companies, GridGain is at the beginning of a tremendous growth curve," Mark said.
"Organizations must transform IT to meet the extreme speed and scale that their application users now demand, and GridGain offers them a cost-effective path to doing this with almost zero disruption to their existing systems and processes. Moving to in-memory computing is a strategy that every IT organization will need to consider."