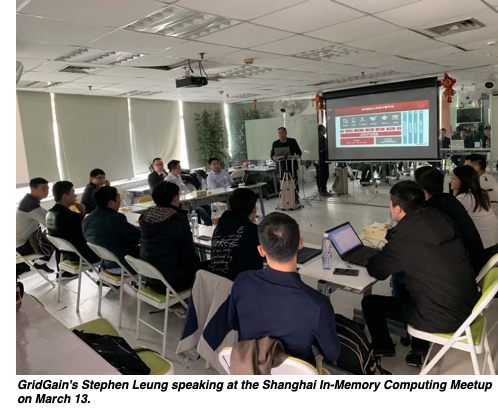 Two events in rather exotic locals are keeping GridGain experts busy this week – the Shanghai In-Memory Computing Meetup and the Open Data Science Meetup Saint Petersburg Meetup.
In Shanghai this evening (March 13), GridGain Asia-Pac solutions architect Stephen Leung is explaining how combining Apache® Ignite™ with a Relational DBMS gives companies a highly scalable, high-velocity grid-based in-memory SQL database -- one with a robust fully featured SQL persistent datastore for advanced analytics and data-warehouse capabilities.
The evening's second speaker is Jiang Xuxi, deputy director of Suning Technology Group's Intelligent Application R&D Center. Suning is one of the leading commercial enterprises in China. It is also China's largest omni-channel retailer. This talk features a successful use case on how Suning uses Ignite to improve its business operation performance and also adds speed and scale to its applications.
On Friday, Yuri Babak – team leader of GridGain's Machine Learning group – will demonstrate how to use TensorFlow with Apache Ignite. Specifically, he'll show how to use Apache Ignite as a distributed data source for TensorFlow.
We won't be speaking at any meetups next week, but GridGain experts will be back on the road the week of March 25 – speaking at a whopping five events! Stay tuned for an update on that meetup power tour next week.