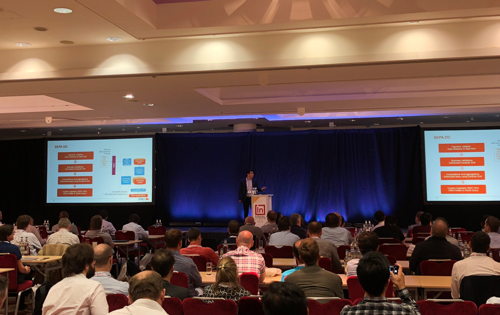 The third-annual In-Memory Computing Summit Europe conference is happening June 3-4 in London. This year GridGain is sending several experts to lead sessions and connect with in-memory computing experts from across Europe and around the world.
Let's take a look at the conference schedule. (If you see a topic of interest, but can't make it to London, stay tuned. I'll be sharing all of the videos as soon as they are available.)
@IMCSummit Day 1
Nikita Ivanov, founder and CTO at GridGain Systems, will kick things off by delivering the summit's first keynote. It's titled, "The Future of In-Memory Computing in a Rapidly Changing World."
Afterward, GridGain's Machine Learning guru, Yury Babak, will lead a session titled, "Stacking, Boosting and Online Learning in distributed mode with Apache® Ignite™." His presentation will include live demos of Machine Learning pipeline building with Apache Ignite's Machine Learning module, Apache Spark, TensorFlow and more
GridGain engineering team lead Ivan Rakov's session will follow Yury's talk. It's titled, "In-Memory Computing Meets Database Durability: Best Practices for Native Persistence and Data Recovery." Ivan – one of the senior engineers who developed Ignite native persistence, backup and Point-in-Time recovery – will provide his insights into the underlying architecture and best practices for implementing native persistence in production. More info here.
Following lunch, GridGain lead architect Valentin "Val"  Kulichenko will lead a session titled, "How to Add Speed and Scale to SQL, Support New Data Needs, and Keep Your RDBMS." He'll share how companies have been using Apache Ignite to add in-memory speed and unlimited horizontal scale to SQL with no rip-and-replace of the underlying database.
Next, Denis Magda, head of product management at GridGain and vice president of the Apache Ignite PMC, will lead a session titled, "Enabling Real-Time Analytics for Hadoop Data Lakes with GridGain." His talk will describe how Apache Ignite and GridGain as an in-memory computing platform can modernize existing data lake architectures, enabling real-time analytics that spans operational, historical, and streaming data sets.
Denis will also co-present one of the last sessions of Day 1. That talk is titled, "How-to for real-time alerting, analytics and reporting at scale with Apache Kafka and Apache Ignite." His co-presenter will be Viktor Gamov, developer advocate at Confluent. Details on that talk here.
@IMCSummit Day 2
GridGain senior consultant Stephen Darlington will lead one of the first sessions of Day 2. His presentation is titled: On Cloud Nine: How to be happy migrating your in-memory computing platform to the cloud." He'll reveal the challenges involved with migrating your application to the cloud – as well, as how to do it. And perhaps more importantly whether you should migrate to the cloud. More here.
Then just before lunch, Denis Mekhanikov, GridGain's client service lead, will deliver a talk titled, "Best Practices for Monitoring Distributed In-Memory Systems." By the end of this session, attendees will have a handy check-list and set of tools to consider using for your own deployments.
Following lunch, GridGain chief architect Alexey Goncharuk will convene a session titled, "The Insiders Checklist for Hardening an In-Memory Computing Cluster." His talk will explore deploying a new service running on a distributed in-memory computing cluster. He'll share the steps required to deploy a mission-critical system, how do set up a DevOps environment and also how test properly before going into production. He'll also share best practices for fault-tolerance and high-availability.
I don't want to give the impression the summit is only focused on GridGain employees. No! There are 30 sessions and several keynotes. I invite you to investigate the full conference schedule on your own.
And to follow the action as it happens next week, connect with the In-Memory Computing Summit on Twitter (@IMCSummit) and LinkedIn.