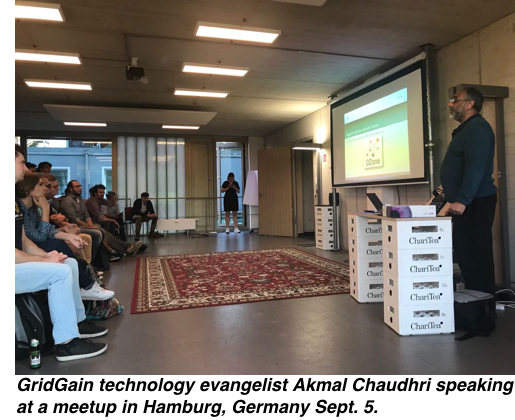 It's been a busy September for us here in the GridGain and Apache® Ignite™ community. We've been preparing for the In-Memory Computing Summit North America 2018 happening Oct. 2-3 in San Francisco. I'll have details on some Ignite and GridGain sessions below.
Meantime, our conference preparations haven't slowed us down! Our intrepid technology evangelist Akmal Chaudhri has been on the road as part of a European Big Data Meetup roadshow – his stops to date: Copenhagen, Hamburg, Berlin, Frankfurt, Vienna, Munich, Zurich, Paris, Amsterdam and London. And next week, he'll be speaking in Oslo.
Let's take a look at some upcoming events for the rest of the month (and details on in IMC Summit afterwards).
Meetups
Bay Area In-Memory Computing Meetup
Wednesday, September 26, 2018 (in Menlo Park)
Valentin (Val) Kulichenko, Lead Architect at GridGain Systems, will present "Best Practices for Stream Ingestion, Processing and Analytics Using In-Memory Computing." He'll share best practices used for real-time stream ingestion, processing and analytics using Apache® Ignite™, GridGain®, Apache Kafka™, Apache Spark™ and other technologies.
Big Data, Oslo V3.0 Meetup
Thursday, September 27, 2018
GridGain technology evangelist Akmal Chaudhri will be a featured speaker at the Big Data, Oslo V3.0 Meetup on Sept. 27 from 6-9 p.m. His talk is titled, "How to become a Big Data Rockstar in 15 minutes!" Abstract: The secret? Apache Ignite! Apache Ignite is a memory-centric distributed database, caching, and processing platform. It is designed for transactional, analytical, and streaming workloads, delivering in-memory performance at scale.
Conferences
db tech showcase Tokyo 2018
Friday, September 21, 2018
Roman Shtykh, a Big Data Engineer at Yahoo! JAPAN, will be a featured speaker at the db tech showcase Tokyo 2018 conference, Sept. 19-21 in Tokyo. His talk is titled, "Apache Ignite: From In-Memory Data Grid to Memory-Centric Distributed Database," and is scheduled for Sept. 21 (Session D-33 #dbts2017).
WBS 14th Quantitative Finance Conference (Nice, France)
Wednesday, September 26, 2018
GridGain Systems is a proud sponsor of the WBS 14th Quantitative Finance Conference Sept. 26-28 in Nice, France. Agenda Wednesday 26th September: Workshops: * Machine Learning in Finance: A Practical View by Miquel Noguer Alonso: Columbia University * Machine Learning Applications in the XVA Space by Andrew Green: XVA Lead Quant, Scotiabank * Advanced Adjoint Algorithmic Differentiation (AAD) by Uwe Naumann: RWTH Aachen University
Webinars
GridGain Webinar: Apache Ignite + GridGain: powering up banks and financial institutions with distributed systems
Tuesday, September 25, 2018
In this presentation, Akmal will teach attendees about Apache Ignite and the GridGain in-memory computing platform, which is built on Apache Ignite, and about the key capabilities and features important for financial applications, including ACID compliance, SQL compatibility, persistence, replication, security, fault tolerance, fraud detection and more.
IMC Summit
And as promised, here's the lineup of Apache Ignite and GridGain sessions at the upcoming IMC Summit.
(Easter Egg announcement: I have set aside 10 free all-access tickets to the conference on a first-click, first-gets-the-free-ticket basis. Enter promo code "TomVIP" and the $600+ price will go down to zero at check-out. Register here)
The conference will include six sessions featuring Apache Ignite and two featuring GridGain.
Here's a listing of the Ignite sessions:
Scalable Machine and Deep Learning with Apache Ignite with Denis Magda, vice president of the Apache Ignite PMC and GridGain's director of product management.
Exploring the Full Potential of Ignite Using Classless Design with David Follen, ING Belgium
How to implement data security in distributed systems - Transparent data encryption in Apache Ignite with Nikolay Izhikov, SberTech
Ingesting Streaming Data for Analysis in Apache Ignite with Pat Patterson, StreamSets
Apache Ignite — Using a Memory Grid for Distributed Computation Frameworks (Spark and Containerized Apps) with Chris Herrera, Hashmap, Inc.
Ultimate Guide to Successful Cross-Platform Deployments with Apache Ignite with Pavel Petroshenko, Electric Imp
And the GridGain talks
Huawei's story of leveraging GridGain as an in memory data grid caching on its public cloud environment with Paul Chen, Huawei Technologies Canada Ltd.
Memory-Centric Architecture - A New Approach to Distributed Systems with GridGain Systems founder and CPO Dmitriy Setrakyan
That's all for this update! Please feel free to leave a comment below.