We are happy to announce the general availability release for
GridGain 5.2
which includes updates to all products in the platform:
We anticipate this being the last mid-point release in the platform before we roll out 6.0 line Q114 or Q214 (we are still planning to have bi-weekly service releases going forward as usual).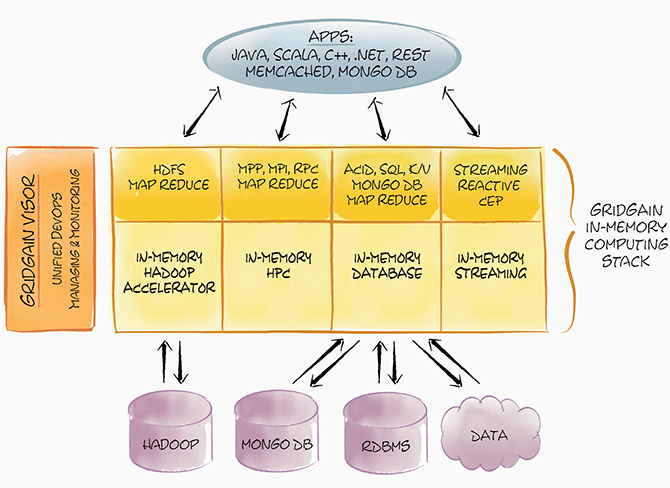 Usability
During past months we've been working very diligently to improve the general usability of our products: from first impressions, to POCs, to production use. Despite the fact that GridGain has enjoyed a stellar record on this front for years - the platform's size is growing rapidly (we are now at almost 4x size of the entire Hadoop codebase, for example) - and we need to make sure that size and complexity don't overshadow the simplicity and usability our products enjoyed so far.
We've added many features and enhancements: better error messages, automatic configuration conflict detection, automatic backward compatibility checks, and better documentation.
Work in this direction will continue. We listen to our customers and pay attention to how they use our products. We make improvements every sprint.
Performance
One of the biggest improvement in the last 6 months is performance for non-transactional use cases. GridGain has been winning every benchmark when it comes to distributed ACID transactions - but we haven't had same winning margins when it came to simpler, non-transactional payloads.
It's fixed now.
We are currently running over 50 benchmarks against every competitive database and data grid products (all seven of them) and currently are winning over 95% of them with some as much as 3-4x. That includes 100% of distributed ACID transactional use cases and most of of the non-transactional use cases (EC, simple automicity, local-only transactions, etc.)
GridGain still holds a record of achieving
1 Billion TPS on 10 commodity Dell R610 blades.
The records was achieved in a open tender and is verifiable. No other product has yet achieved this level of performance.
Roadmap
There's plenty of exciting stuff that we've been working on for the past 6-9 months that will be made public early next year when GridGain 6.0 platform will roll out. Some features have trickled out to the public - but most have been kept tight for the next release.
Download
As always, grab your free download of GridGain at
https://www.gridgain.com/resources/download
and check out our constantly growing documentation center for all your screencasts, videos, white papers, and technical documentation:
https://www.gridgain.com/resources/documentation