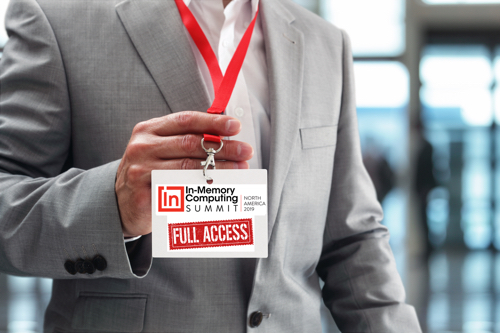 The In-Memory Computing Summit North America 2019 is happening Nov. 13 and 14 at the Hyatt San Francisco Airport. Tickets are available now at the "Super-Saver" price of $399 but 5 alert readers of this blog post will snag a full-access pass for FREE!
Just visit the conference registration page and click the "Enter Promotional Code" hyperlink. Then type in "TomVIP" (no quotes) and you'll be able to register for free. I have 5 free tickets loaded under that code, so it's first come, first served.
Of course, if you're a speaker and/or a sponsor, you'll also get a free ticket. The call for speakers closes July 28.
In-memory computing is changing the computing landscape and opening the path to next-generation applications for use cases in areas such as web-scale applications, the Internet of Things (IoT), and Big Data analytics. At the In-Memory Computing Summit, attendees can learn about the wealth of in-memory computing technologies now available and learn best practices from users and practitioners.
How to Contribute
Contribute to the in-memory computing conversation by submitting a speaking proposal on one of these topics or a topic of likely relevance for the community:
* User stories and business use cases
* What's new and upcoming in in-memory computing
* Best design practices and performance optimizations
* High availability, clustering, and replication
* Monitoring, management, automation tools and best practices
* In-memory computing in the cloud
Submission Tips
Include details about your presentation in a concise and clear way. Your submission doesn't need to be extensive, but it should be well thought out. Clearly state:
1. Technologies that will be covered
2. Purpose of the talk (problem, solution, etc.)
3. Target audience
4. What the audience will take away
More tips:
• Make your speaker biography as informative as your abstract. The Conference Committee is highly receptive to new speakers but you need to let them know who you are.
• Proposals should not be sales pitches. The Conference Committee is looking for in-depth technical or business talks, sales or product pitches.• Limit the scope of the talk to 50 minutes. It is better to be thorough and cover less material than to try to cover a lot of material in a superficial way.
• Do not assume that your company name buys you credibility. If you propose talking about something important that you know well because of what your company does, detail that in the description.
• If you are submitting a speaking proposal on behalf of another individual, make it clear who will be speaking and provide the contact information of the proposed speaker.
• Explain why people will want to attend your talk. Tell the Conference Committee if your topic is gaining new attention or it is critical to modern business or it is a topic that everyone should understand in more depth.
• Make your presentation stand out by submitting an original proposal that focuses on real world use cases, relevant examples, and knowledge transfer.
Conference Tracks
* Architecture/Design
* Hardware
* New Capabilities
* Streaming
* Tales from the Trenches
Breakout Session Length
Submissions should clearly indicate the topic and content of your proposal. Sessions should be 50 minutes in length, including Q&A.
Questions? Need help writing your proposal? Just let me know! I'm happy to help.