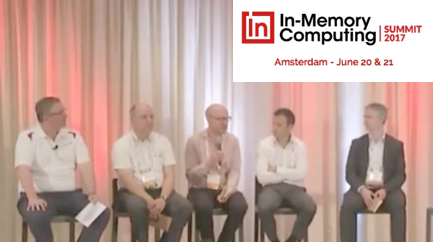 The following panel discussion, recorded June 21 in Amsterdam at the In-Memory Computing Summit Europe, brought together some of Europe's top in-memory computing experts who shared their vision of where this exciting technology is headed in the months and years to come. 
The discussion's theme: The Future of In-Memory Computing. Moderated by Terry Erisman, vice president of marketing at GridGain Systems, the panelists were Rob Barr, Middleware Head of Development and Data Grid at Barclays; Chris Goodall, Director at CG Consultancy (UK) Ltd.; Lieven Merckx, IT Achitect at ING Belgium; and Sam Lawrence, CTO at FSB Technology (UK) Ltd.
An industry-wide event, the conference focuses on the full range of in-memory computing-related technologies and solutions. Conference attendees include technical decision makers, implementers and developers who make or influence purchasing decisions about in-memory computing, Big Data, Fast Data, IoT and HPC solutions.
This year's conference will be held at the South San Francisco Conference Center -- centrally located just minutes from San Francisco Airport and 25 minutes from downtown San Francisco. Stay tuned for a sneak peek at the conference agenda and speakers!
Last year's IMC Summit Silicon Valley drew hundreds of attendees for talks from top in-memory computing experts from companies including: Carnegie Mellon University, Workday, ScaleOut Software, Target, VoltDB, Intel, GridGain Systems, Plexistor, Samsung, Sherbank, Hazelcast, Oracle, MemSQL, the Apache Software Foundation -- and many more.