Hi, this is Max Herrmann from GridGain Systems, and today is a big day as in-memory computing as you know it is about to be redefined. Sure, in-memory computing technologies have been around for many years in one form or another. First there was caching, which graduated to distributed caching over time by affording itself a scale-out architecture. Then came in-memory databases which, it turns out, often don't scale so well, and/or they don't support ACID-compliant transactions. And finally there are data grids, which are great for speeding up the processing of transactional data, but tend to ignore the needs of the real-time enterprise that wants to link fast and predictive analytics to its transactions, so it can increase its operational agility. And while the number of these pointy in-memory solutions has continued to increase due to massively dropping costs of DRAM on one hand, and the exploding growth of data generation and consumption on the other, so has the confusion among customers who have been trying to map out how in-memory fits into their own Fast Data strategy.
Enter the GridGain In-Memory Data Fabric which offers a new, refreshing approach to the speed and hyperscale-driven data access and processing world of the modern real-time enterprise.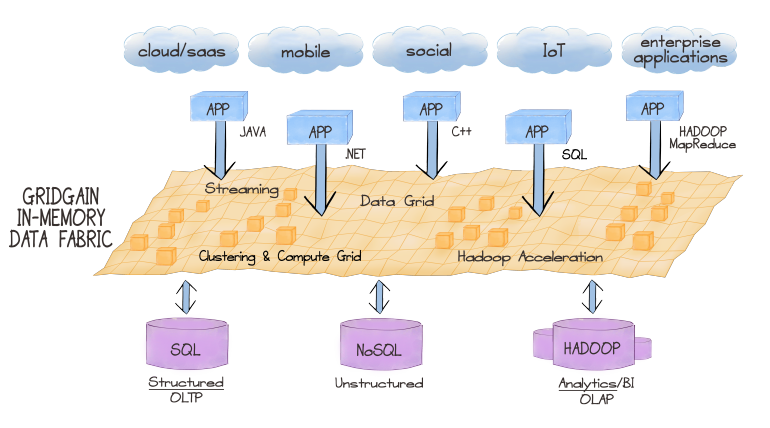 Announced today
at the Big Data Innovation Summit in Boston, the GridGain In-Memory Data Fabric is a comprehensive in-memory software solution, which includes a clustering and compute grid, a database-agnostic data grid, a real-time streaming engine as well as Hadoop acceleration. By connecting multiple data sources (relational, NoSQL, Hadoop) with any Java, .NET and C++ application, it boosts speed and reach of both your existing and new applications, while helping you break down data silo barriers in a secure and highly available architecture. And while some big data solutions in the market should really rather be called 'big dollar' solutions because of their proprietary software nature or restrictive hardware certification requirements, the GridGain In-Memory Data Fabric is open source software that has been designed to run on affordable commodity hardware.
Unlike most in-memory point solutions in the market, which are narrowly designed for specific data sources or applications, the GridGain In-Memory Data Fabric offers you a fresh alternative to run your real-time business on high-performance transactions and analytics, with no rip and replace of your existing apps and data stores. And the best of it: No vendor lock-in now or later.
With non-volatile memory becoming more broadly available and offering additional options for addressing persistency of a memory-first storage architecture, the obstacles to putting your business operations on a fast track are starting to fade. So, download our product
here
today and see for yourself how at GridGain, we can help accelerate your transition to a real-time enterprise, letting you take advantage of in-memory computing innovation the way it really should be.