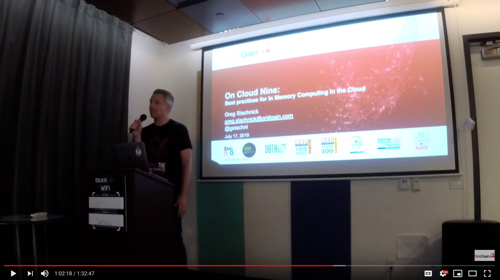 Today I wanted to share the video recording of last week's Bay Area In-Memory Computing Meetup in Menlo Park, where GridGain's Greg Stachnick talked about best practices for in-memory computing in the cloud.

Abstract: Cloud deployments offer the potential for almost infinite resources and flexible scalability. But there are so many options!
It can be overwhelming to know which services are best for your use case. Building distributed systems only adds to the complexity. Watch this video and pick up some best practices on how to best structure and deploy IMDB/IMDG applications in a cloud environment.
GridGain organizes the Bay Area In-Memory Computing Meetup each month in Menlo Park. We also support related conversations on the meetup's forums, where you can ask the speakers (and other members) questions about any and all of the talks. Join the GridGain Forums today (one in five new registrants this week only will win a FREE ticket to the In-Memory Computing Summit, happening Nov. 13-14 in San Francisco)!