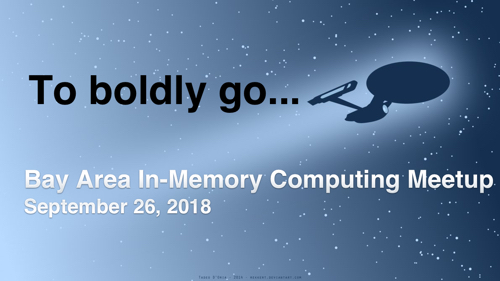 Join us Sept. 26 in Menlo Park for an evening of insightful talks, great Italian food (+wine, beer & soft drinks) and cool raffle prizes! This meetup is sponsored by GridGain Systems and the In-Memory Computing Summit, Oct. 2-3 at the Hyatt Regency San Francisco Airport in Burlingame. (https://www.imcsummit.org/2018/us/)
This meetup is free (as always) but please RSVP to help us plan for food and beverages accordingly.The evening's theme: To Boldly Go...
Speakers:
* Praveen Innamuri, Sr Engineering Manager at Salesforce
* Zhidong Ke, Senior Software Engineer at Salesforce
* Valentin (Val) Kulichenko, Lead Architect at GridGain Systems
* Doug Hood, Oracle TimesTen Cloud Product Manager
AGENDA:
* 6 p.m. -- Dinner is served! Italian cuisine prepared by Bootup's on-site executive chef along with an assortment of tasty beverages
* 6:10-6:45 p.m. -- Talk 1 (Praveen & Zhidong) "How we Effectively Scaled the Contact Insights Computation From 0 orgs to 20k orgs With our Spark Data Pipeline"
* 6:45-7:20 p.m. -- Talk 2 (Val) "Best Practices for Stream Ingestion, Processing and Analytics Using In-Memory Computing"
* 7:20-7:55 p.m. -- Talk 3 (Doug) "Using TimesTen Scaleout in the Cloud"
* 7:55 p.m. -- raffle drawings (enter the raffle here: http://bit.ly/BoldyGo )
* 8 p.m. Finis
>> Talk one: (Praveen & Zhidong) In the world of active conversation across multiple sales reps and customers, there is always a case that a sales rep needs a quick introduction to kickstart their sales process. With millions of conversations going around across multiple user base, building activity graph is a time consuming operation. The scale for computation becomes harder when we need to consistently compute for 20k organizations, and keep the closest computations updated and better with latest conversations and newer relations. We are walk through with our initial approach of solving this harder scale problem, different approaches we choose and fail, and how we effectively scaled it up for growing number of orgs.
>> Talk two: (Val) With real-time streaming analytics, there is no room for staging or disk. Learn the best practices used for real-time stream ingestion, processing and analytics using Apache® Ignite™, GridGain®, Apache Kafka™, Apache Spark™ and other technologies.
Val will explain how to:
* Optimize stream ingestion from Kafka and other popular messaging and streaming technologies
* Architect pre-processing and analytics for performance and scalability
Implement and tune Apache Ignite or GridGain and Spark together
* Design to ensure performance for real-time reports
By the end of this talk, you'll understand best practices for stream ingestion, processing and analytics using in-memory computing.
>> Talk three: (Doug) TimesTen Scaleout [the World's Fastest OLTP Database] works both on Premises and in the Cloud.
Doug will explain how to:
*Provision and use TimesTen Scaleout in AWS, Azure, Google and Oracle Clouds.
* Either create custom configurations or do it the easy way with TerraForm and Ansible.
* Create High Availability configurations that span Availability Zones.
* How the compute shape [VM or bare metal] affects performance.