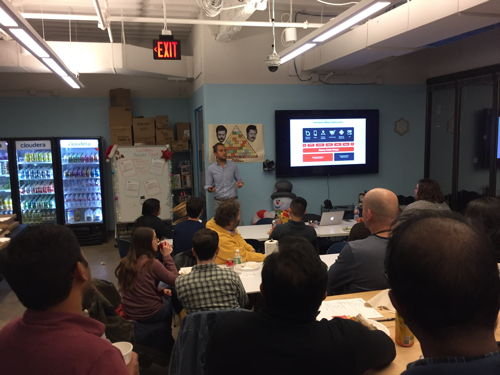 As many of you know by now, GridGain experts love speaking at meetups. Especially when away from home – and usually when they are traveling to speak at a conference.
I was able to catch-up with Denis Magda last week in Austin, Texas. I live in nearby San Antonio... an easy drive. Denis, who is director of product management and Apache Ignite PMC chair, was there to speak at the KubeCon + CloudNativeCon North America 2017 conference on Dec. 8.
His session was aimed at DevOps pro grappling with distributed databases. Specifically, how Kubernetes can help with an easy application orchestration of distributed databases like Apache® Ignite™.
Minutes after touching down the evening before at the airport, on Dec. 7, his Lyft driver was whisking Denis to Cloudera's trendy offices in the heart of downtown to speak at the Austin Data Meetup. Cloudera was kind enough to host so I thought the least GridGain could do was sponsor the meetup by paying for the pizza and beverages.
Since these were data scientists, Denis talked about machine learning as a method of data analysis that automates the building of analytical models. By using algorithms that iteratively learn from data, computers are able to find hidden insights without the help of explicit programming. These insights bring tremendous benefits into many different domains.
For business users, in particular, Denis explained that these insights help organizations improve customer experience, become more competitive, and respond much faster to opportunities or threats. The availability of very powerful in-memory computing platforms, such as the open-source Apache Ignite, means that more organizations can benefit from machine learning today.
During his talk, Denis unpacked some of the main components of Apache Ignite, such as a distributed database, distributed computations, and machine learning toolkit. Through examples, attendees will learn how Apache Ignite can be used for data analysis.
I recorded his talk, available below, for your convenience. Thanks again to the Austin Data Meetup folks and everyone at Cloudera's Austin office!