On February 15, I hosted a webinar "The Apache® Ignite™ Web Console: Automating RDBMS Integration".
I discussed how the Apache® Ignite™ in-memory computing platform enables you to dramatically accelerate and scale out your existing data-intensive applications without ripping and replacing your existing databases. You insert Apache Ignite between your application and database layers to significantly accelerate your existing solution's overall performance.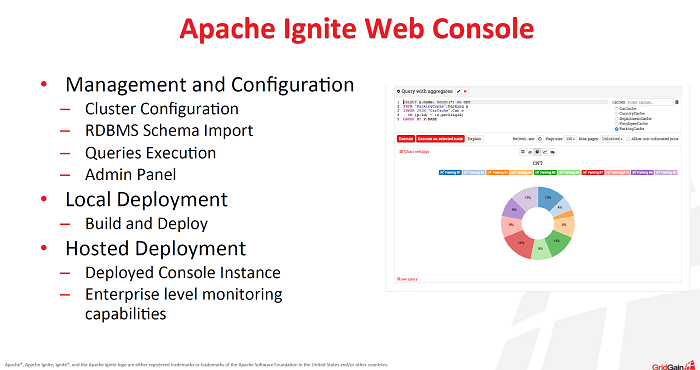 I explained that the Apache Ignite Web Console, an interactive management and configuration tool for Apache Ignite, provides an automated way to accomplish the following:
Prepare respective Apache Ignite configurations
Create Java POJO objects and index them in a similar way your data is indexed in RDBMS caches
Tighten up Apache Ignite caches with the RDBMS with the CacheStore interface, enabling read-through and write-through capabilities
Pre-load data from your RDBMS into the Apache Ignite caches
The Apache Ignite Web Console: Automating RDBMS Integration Webinar Topics
During this webinar, I demonstrated how the Apache Ignite Web Console enables the automatic integration of Apache Ignite and your RDBMS. I showed many demos, including explaining how to:
Import a RDBMS schema and map it to the Apache Ignite caches
Setup indexes
Create a Java POJO
Download a ready-to-run Apache Ignite based project that will be fully integrated with the RDBMS
Watch this webinar to gain a greater understanding of how to use the Apache Ignite Web Console to automate RDBMS integration.